Kinopoisk has published the first teaser trailer for the continuation of the series "Pishcheblok", based on the novel of the same name by writer Alexei Ivanov. The main character, pioneer Valerka Lagunov, will again face danger — events will unfold three years after the summer shift at the Burevestnik camp. The script for the new season was written by Sergey Kaluzhanov, known for his work on the projects "Major" and "Detective Syndrome", and the director's chair was taken by the director Eduard Bordukov ("On the edge", "There are no places in paradise").
In the second season of the vampire horror, Peter Natarov, Daniil Vershinin, Maria Abramova, Angelina Strechina and other artists will return to their roles. It will not do without new characters performed by Ksenia Treister, Ravshana Kurkova, Sergey Epishev and Rinal Mukhametov. Recall that the first season of the project received high marks from critics and hit the top 3 most discussed series on Kinopoisk.
In the continuation, there is no unity of the scene, as in the first season, where everything happened in a pioneer camp. The second season is a little more diverse in geography, it has more action elements – chases, fights with vampires, along with a detective line in the tradition of the first season. In addition, the goals and objectives that our hero faces are becoming higher and larger. And most importantly, it is a completely original work. I know that Alexei Ivanov saw the concept and approved of it," says screenwriter Kaluzhanov about the sequel.
The premiere of the second "Pishcheblok" will take place on the service this summer.
Source: Hellomagazine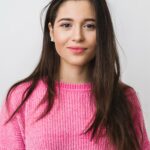 Rose James is a Gossipify movie and series reviewer known for her in-depth analysis and unique perspective on the latest releases. With a background in film studies, she provides engaging and informative reviews, and keeps readers up to date with industry trends and emerging talents.