Essentials of the week:
Manifesto Season 4 Episode 2: We are finally there. After a few years of racking our brains, scouring the internet for the best theories, and beating ourselves up the wall over the many inconsistencies in the series, Manifest is finally complete. We're finally going to find out why – by whom – and how – Montenegro Airlines Flight 828 has been missing for 5 and a half years.
Friday, June 2
Valeria Season 3: New love triangles, milestones and birthdays to mark a new decade… four friends will get through it all together as always.
the scoop : After the shocking murder of a fellow journalist, a justice-seeking journalist finds himself battling the police, the media and Mumbai's underworld.
Missing Connections : Seduced by a man she met by chance, a hopeless romantic decides to find him thanks to an app. But is he really what she's looking for?
Rico de Amor 2 : When Paula leaves Rio de Janeiro to resume her work as a volunteer doctor in the Amazon, Teto hatches a last-minute plan to follow her, and things go awry.
vortex (Catalogue): 2025. Captain of the judicial police in Brest, Ludovic lost the love of his life, Melanie, 27 years ago. The mother of his daughter, Juliet, died, apparently in an accident…
But suddenly, thanks to a time rift that opens up in a reconstructed crime scene in virtual reality, they can communicate between 1998 and 2025! Ludovic warns Melanie: she will die in 11 days!
But saving him from certain death means Ludovic risks losing his life in the present he's taken so long to rebuild: his new wife Parvana and their son Sam…
Belfast (Catalogue): Summer 1969: Buddy, 9, knows exactly who he is and what world he belongs in, working-class in the northern districts of Belfast, where he lives happily, pampered and safe.
But in the late 1960s, when the first man set foot on the moon and the August heat still lingered, Buddy's childhood dreams turned into a nightmare.
Hidden social unrest on the streets of the neighborhood suddenly turns violent. Buddy discovers chaos and hysteria, a new urban landscape made up of barriers and controls and populated by good guys and bad guys.
Saturday, June 3
Gazelles (Catalogue): Marie and Eric, a couple in their thirties, just out of high school, sign for their first apartment when Marie is gripped by a nagging doubt. Her meeting with a handsome dark-haired man will hasten her decision: she leaves Eric to plunge into the depths of pleasure and freedom.
But first, he eats the bottom of a swimming pool… and discovers a world without mercy: celibacy at his age is quickly seen as a dubious defect. Brightened by new friendships, Marie learns to see her celibacy as an opportunity from which she can emerge stronger and finally be happy.
Monday, June 5
Barracuda Queens : Loosely inspired by real events, the Barracuda Queens series tells the story of a group of young women in the 90's who went on a robbery spree with a spirit of rebellion, but also a taste for adventure and revenge on the men who led them astray. . The series depicts a world where some criminals get away with it… and some don't.
Tuesday, June 6
Birds of prey (Catalogue): A crazy story told by Harley Quinn herself – only she knows. When Gotham's most evil – and most narcissistic – nemesis, Roman Sionis, and his trusted sidekick Zaszi set out to hunt down a certain Cassie, they scour the city for the girl's whereabouts.
The paths of Harley, Huntress, Black Canary and Renee Montoya collide, and this unlikely foursome has no choice but to unite and defeat Roman…
Wednesday, June 7
Arnold : This three-part documentary follows Arnold Schwarzenegger's journey from the mountains of rural Austria to the heights of the American dream.
In a series of interviews, Schwarz, his friends, his rivals, his fellow actors and observers engage in complete candor. Discover the story of this extraordinary person, a medal-winning bodybuilder, successful Hollywood actor and governor of California, but also a man with a rich and turbulent personal life.
Thursday, June 8
my first time : Wrap up your applause for this refreshing Netflix series centered on Davy, a studious high school student whose milky temper often makes things difficult for him.
Tour de France – at the heart of the peloton : This documentary series closely follows all the actors of the Tour, from the riders to the team managers, and depicts the many challenges of the race that has become a true international icon, broadcast in 190 territories. The Tour de France raises the curtain behind the scenes of the iconic teams, from preparation to the finish in Paris.
It is now available and should not be missed
The Daughters of Doctor March, version of Greta Gerwig, has finally arrived on Netflix. We watch it for its impeccable cast – Saoirse Ronan, Emma Watson, Florence Pugh in the lead role – and for its authentic retelling of the novel of the same name.
Source: Allocine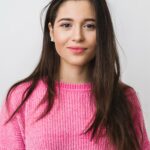 Rose James is a Gossipify movie and series reviewer known for her in-depth analysis and unique perspective on the latest releases. With a background in film studies, she provides engaging and informative reviews, and keeps readers up to date with industry trends and emerging talents.