Warning, the following paragraphs contain spoilers for the episode of Un Si Grand Soleil airing tomorrow night on France 2! If you don't want to understand anything, don't read the following!
Wednesday, September 20, 2023 in Un si grand soleil…
Virgil told Alix the terrible news
At dawn, Commissioner Becker calls Cecil to inform him that Virgil Burville's DNA has been found at the crime scene. Because Spanish police had already seized €300,000 in cash on his boat last week, Judge Alfand immediately issued an arrest warrant against him.
Achilles, who overheard the conversation, rushes to warn Tom.
Afterwards, Becker asks Manu to go to Spain to interrogate two smugglers who were arrested on Virgil's yacht. In reality, Commissioner Becker is trying to remove him from the ongoing investigation because of his relationship with the suspect.
At the same time, the commissioner issues an arrest warrant to his teams. Since the latter is probably armed, he calls for caution. Immediately, Ian and Thierry go to the marina, but Virgil has already escaped.
For his part, Virgil arranges for Alix to meet him on the high seas, after telling her how worried he is, he tells her that he will have to go. Indeed, Virgil has no choice. If the police catch him, he risks a long prison term. He refuses to follow her running, tearfully declaring that he will miss her very much. Mutual feeling. Very shaken, Alix and Virgil exchanged one last kiss.
Leonor and Enrique renew their partnership
Karine begins her first day at L. Cosmétiques. Hardworking and conscientious, Mom quickly finds her feet in her new role.
In turn, Maeva came second in a graffiti competition and thus won a one-week internship at the Beaux-Arts in Nimes, as well as a master class with a graffiti artist she particularly admires.
During the day, Enrique visits Leonore to make a first impression on Carine. And that's a compliment. Indeed, Enrique finds that he is doing a really great job. Elated by the news, Leonor finally asks him out for a drink, which he accepts.
Not far from there, Karine returns home and tells her daughter about her first day at work. Maeva is excited for her mother. After a while, the teenager takes advantage of their exchange to tell his mother about the results of the competition.
Meanwhile, Leonor and Enrique meet for a drink. The latter's opportunity to talk to him about his new apartment. It must be said that Enrique realized that camping was just a phase and now he needed something more stable to move forward.
As the evening wears on, the atmosphere between Leonor and Enrique is so cheerful that she invites him to dinner. However, Leonor refuses because she has promised her son to spend the evening with her. However, he suggested to postpone this meeting until next week. As soon as he hastened the reception, they part as accomplices.
Source: Allocine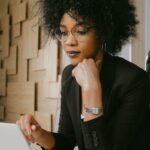 Camila Luna is a writer at Gossipify, where she covers the latest movies and television series. With a passion for all things entertainment, Camila brings her unique perspective to her writing and offers readers an inside look at the industry. Camila is a graduate from the University of California, Los Angeles (UCLA) with a degree in English and is also a avid movie watcher.