Hello Christmas Spirit (Already Available on Netflix)
What is it about? When a twist of fate brings their families together for Christmas, Charlotte seizes the opportunity to prove that her old friend Jack's life is too good to be true.
What we need to know: It was Heather Graham and Brandi who opened the Christmas war with this TV movie, which was released on November 16th. We'll be honest: It's nice to see the former American singer (The Boy is Miiiine) back on screen, but we'd like to see him in a better quality production. In any case, subscribers will not be deceived: with a rating of 1.9/5, we should rather say "goodbye Christmas spirit".
Family Switch (November 30 on Netflix)
What is it about? A family is thrown into chaos just days before Christmas when parents and children find themselves in each other's shoes during a rare cosmic event.
What we need to know: Family Switch , Netflix's new comedy, is a bit of a weird Friday encore. Except this time, it applies to the whole family. We're watching this movie more for the casting than the gags (except around the dog and the baby, which are genius) even if we ask what Jennifer Garner is doing here. Fans of Wednesday's series will be delighted to see Emma Myers (The Brilliant Enid) back on screen.
A Bad Boys-Style Christmas (Nov. 30 on Netflix)
What is it about? The bad guys are ready to celebrate Christmas, their favorite day of the year, because while everyone is busy opening presents on Christmas morning, no one is there to stop the group from the heist they've been dreaming of. Except this year, Christmas is cancelled!
What we need to know: This is a very nice gift that Netflix is ​​offering to fans of the (super) animated movie The Bad Guys coming out in 2022. This special episode – only 30 minutes long – should be the same as a feature film: fun, quirky, rhythmic and with a nice moral.
Christmas in Candy Lane (December 1 on Prime Video)
What is it about? After Chris unwittingly makes a deal with an evil elf named Pepper to increase his chances of winning, he casts a magical spell that brings the 12 Days of Christmas to life and wreaks havoc on the entire town. At the risk of ruining the family holiday, Chris, his wife Carol and their three children must race against time to break Pepper's spell, confront magical and evil characters to save Christmas for everyone.
What we need to know: Prime Video is also entering the Christmas period with some original productions. Eddie Murphy gets the ball rolling for Christmas in Candy Lane, a family film about magic and swans at a swimming pool (we kid you not).
A Stunning Christmas (December 8 on Prime Video)
What is it about? On Christmas Eve, Greg, a lonely and silent police officer, does not hesitate to leave his daughter to go on a mission. In order to teach her a lesson, Santa decides to fulfill his daughter's wish: that her father look like Richard Silston, the good, slightly goofy and overworked father of the family from the Christmas movie she loves.
While Greg is sent to this imaginary world, Richard accidentally lands in the real world. The two awakened men realize they have no choice but to succeed in each other's mission to reclaim their lives: to break up Richard's dangerous drug ring and save Greg's family home by winning the local figure skating competition.
What we need to know: Cock-a-doodle Doo! The French also know how to get used to Christmas movies. And it's a comedy with a fantastic sauce, which the streaming platform offers a stunning Christmas, which brings together the actors Eric Judor, Matthias Quiviger (Ragnar), Alex Lutz, Laura Phelps and Kim Higelin. But the real giveaway is the list of all the guests who appeared there (thought we were going to spoil the names?).
Source: Allocine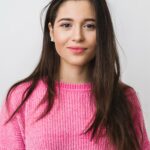 Rose James is a Gossipify movie and series reviewer known for her in-depth analysis and unique perspective on the latest releases. With a background in film studies, she provides engaging and informative reviews, and keeps readers up to date with industry trends and emerging talents.