Unveiling an extraordinary preview at the Cannes Film Festival and opening in theaters for two days, Salaam sheds new light on Diam's life and career after his career ended. AlloCiné saw the documentary event.
documentary event Diam and his journey after ending his music career, Hello has exclusive theatrical release rights before being released on the BrutX platform at the start of the school year. Produced by Black Dynamite and Brut, this film is written and directed Diam, Huda Benjamin (Divines, The Eddy) and Anna Cisse (Vampires) looks back on the former rapper's journey after 10 years of silence.
Melanie Diam returns with a powerful and moving documentary in which she tells her story with an open heart. In front of the camera for the first time, he confides about fame, psychiatry, the search for meaning and his conversion to Islam. He takes us in the footsteps of Diam and reveals the secrets of his history in this intimate and humble story.
Salam thus shows the difficulties of existence in the eyes of others, of society, and discusses the great French artist's mental health and the delicate choices he made to change his life. From Mauritius to Mali, from Paris to Tanzania, with this journey Melanie Diam returns to the places that marked her life.
Salam was screened in a world premiere and special session on May 26 during the 75th edition of the Cannes Film Festival, and AlloCiné was able to find this cinematic event that should touch Diam fans, even if passages are more exciting than others.
Diam found peace
This moving documentary takes its strength from the story of Diam's, whose real name is Melanie Georgiades, told years after her music career ended and left many fans behind. The one who was the crybaby of the youth in the 2000s, he recalls the painful moments of his life and unapologetically asks intimate questions about his history.
Modestly but with great honesty, Melanie Diam confides her moments of glory, her moments of doubt, her failures, psychiatry, her search for meaning in life, and her conversion to Islam. He tackles difficult topics, talking about depression, suicidal thoughts and media pressure.
The first part of the documentary is about Melanie's words, but also the testimonies of loved ones, such as her mother, ex-manager, ex-producer and her dear friends, who comment and explain the Stations of the Cross and the new life by Diam.
But don't expect to delve deep into Diam's music career, watch snippets or listen to his old sounds, someone who now lives far from the glitz and showbiz has definitely turned a corner.
That doesn't stop him from returning to mythical places like the Zenith Room, or confronting him with his trophies and awards for a job that eventually consumed him, but which connected him to millions of people. Although she maintains tenderness and love for her fans and seems to have no regrets or resentments, she has now found the inner peace and happiness that she has been searching for since childhood, according to her words.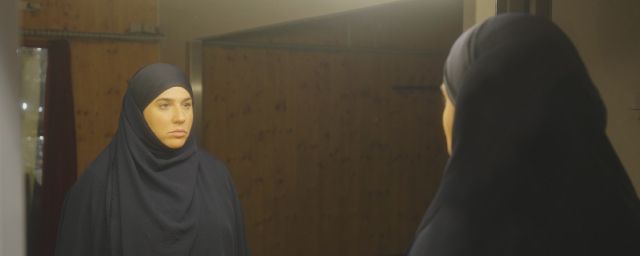 The documentary is punctuated by a rather sophisticated soundtrack and Diam's voice almost croaking as he speaks – proof that his prose talent hasn't failed him – and it also touches on the beauty of his images.
Even if the staging is very (too?) Klipsque and sometimes it worked to give us that sincerity that came from the first part. It goes against the brute force and authenticity of Diam's word. The second part of the documentary is a little less convincing, as we are drawn more to his current life, which is shared between his family life and his association, which remains interesting, but very ordinary and bland.
The advance screening at the Salle Bunuel of the Palais des Festivals in Salame shook and disturbed the public, who gave the film a long standing ovation. And for those who were hoping to see the artist on stage, Diam's didn't want to be in Cannes, but still recorded a very warm video, which was warmly received by the packed room.
It remains to be seen whether fans will be in the cinema for special screenings at select theaters in France on July 1 and 2 before the documentary on BrutX goes online at the start of the academic year.
Source: allocine