______________________________
A new multi-part melodrama "Open Marriage" is being prepared for release with Marina Alexandrova and Anton Vasiliev. Filming of the project has already been completed. The show was directed by Ivan Kitaev ("Univer", "Former", "Without Rules"), and the partners of the main characters on the set were Vladimir Yaglych, Polina Maksimova, Gosha Kutsenko, Yulia Gavrilina, Ksenia Katalimova, Sofia Lebedeva, Kirill Pletnev, Konstantin Kryukov and others.
The plot of the series tells about a married couple "over forty" – Seva and Oksana. They have three children, a large apartment in the center of Moscow, and both have established careers. An enviable life for family and friends. They are an exemplary family. But finding herself in the midst of surging problems, petty conflicts, accumulated claims and low self-esteem, Oksana cheats on Seva for the first time in 20 years of marriage and admits this to her husband. The usual, fast-paced rhythm of life with its everyday life and whirlwind of days freezes, like in a movie, and Oksana asks herself questions, the answers to which she has been so afraid of in recent years – who is she, what does she want, is she happy? Instead of the inevitable drama, Oksana invites Seva to try an open marriage…
The premiere of Open Marriage will take place exclusively in the Okko online cinema this year.
Source: Hellomagazine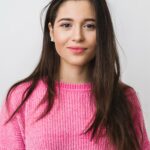 Rose James is a Gossipify movie and series reviewer known for her in-depth analysis and unique perspective on the latest releases. With a background in film studies, she provides engaging and informative reviews, and keeps readers up to date with industry trends and emerging talents.