While writing the script for the third film, Damien Leone is already thinking about how to expand the plot for Terrifier 4
The explicit horror franchise terrifier gained a lot of prominence with the release of the second film in 2022, after people passed out and vomited during sessions in theaters. now director Damien Leone revealed how he is already planning the fourth feature – long before the third, which is still in production with a script.
During an interview with Insider, Leone opened up about the future of the franchise. In the chat, the filmmaker confirmed how he's currently working on the script for the third installment, while teasing that his plot ideas could lead to expansion into a terrifier4.
"I am writing terrifier 3 while we talk. I definitely want to do at least one more," said the director. "It could be two to tell this story and tackle all the ideas I have in my head."
Because there's so much more to explore with art the clown (David Howard Thornton), the pale girl (Amelie McLain), victoria (Samantha Scaffidi) and certainly sienna (Lauren LaVera) as our final girl [termo usado para protagonistas que sobrevivem no final dos filmes de terror].
"We will be following your journey to the end of this franchise," assured Damien Leone in the website interview.
Art the Clown is unleashed in the 🇬🇧🇮🇪 Own Terrifier 2 on Digital HD, 📀 & Boxset right now.

All the ways to watch #Terrifier2 🤡👉 https://t.co/1WcJRcadZ7pic.twitter.com/JtcF8brLHe

— Terrifier 2 🤡✌️ (@TerrifierFilm) October 24, 2022
Source: Rollingstone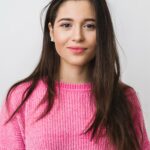 Rose James is a Gossipify movie and series reviewer known for her in-depth analysis and unique perspective on the latest releases. With a background in film studies, she provides engaging and informative reviews, and keeps readers up to date with industry trends and emerging talents.