A24 and James Wan will produce the adaptation of 'The Backrooms', a series of online horror shorts directed by a 17-year-old boy. Where did it come from?
A24the independent company responsible for some of the best recent horror films and the home where genre directors such as Ari Aster and Robert Eggers have grown up, has teamed up with Atomic Monster and James Wan to produce a new project based on a series of viral internet shorts..
'The Backrooms' are a series of small interrelated horror movies that accumulate more than 100 million views on YouTubeand will be adapted into a feature film by its creator, the director and specialist in visual effects Kane Parsons… A 17-year-old boy.
Parsons started uploading the shorts last year to his YouTube account'Kane Pixels', which has just surpassed 2 million subscribers, after experimenting with digital effects inspired by the anime series 'Attack on Titan'. The last installment so far of 'The Backrooms', number 16, was uploaded to the channel last week.
Details about the plot of the film, which will be written by Roberto Patiño ('Westworld')remain secret, but in the original shorts the synopsis is as follows: The fall of a young filmmaker to another dimension leaves him wandering through aseptic offices, an eerily yellow, empty, labyrinthine world, which may (or may not) be home to otherworldly beings.
The title and setting of the 'found footage' horror films created by Parsons are inspired by the images of a creepypasta (Internet urban legend) published on the 4chan website in 2019. In the original story a shadow organization from the late 1980s, called ASYNC, opens a portal that connects the real world with 'The Backrooms', an alternate reality from another dimension.
Kane Parsons will have to wait for the summer holidays to begin production on the film, since he's obviously still in high school. Did you know the viral shorts of the young artist?
Source: Fotogramas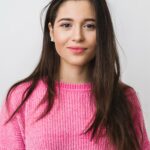 Rose James is a Gossipify movie and series reviewer known for her in-depth analysis and unique perspective on the latest releases. With a background in film studies, she provides engaging and informative reviews, and keeps readers up to date with industry trends and emerging talents.