The Killers paid tribute to U2 in a concert held on St. Patrick's Day, an Irish Catholic holiday
The Killers revived one of the biggest singles of the U2, 'Where The Streets Have No Name'at the show held last Friday, the 17th, at Uncasville's Mohegan Sun Arena in Connecticut. Brandon Flowers revealed to the audience that the band wanted to honor the Irish group on St. Patrick's Day.
"Do you know why we celebrate St. Patrick's Day?" began the vocalist. "We bring an Irishman with us wherever we go. He's been making lights for us for about 17 years, Steven Douglas [o designer de iluminação]."
But even long before we met Steven – we all love U2 – and they had a little album called The Joshua Tree (1987). And so we thought: since that's the common denominator of this band, we can all agree that U2… [Eles foram importantes] when do we start."
To celebrate St. Patrick's Day and also the importance of U2 in the history of The Killers, Brandon Flowers said he would "do a little tribute to them – Christianity coming to Ireland and U2 singing here tonight", before singing the opening notes of the 1987 track.
'Where The Streets Have No Name' talks about religion, identity and unity. For the song, bono voxvocalist of U2would have been inspired by the idea that it is possible to identify a person's religion and income based on the street they live on [via Genius].
[Se o player do Youtube não estiver funcionando automaticamente, clique aqui.]
Source: Rollingstone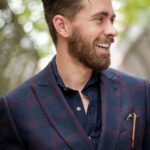 Earl Johnson is a music writer at Gossipify, known for his in-depth analysis and unique perspective on the industry. A graduate of USC with a degree in Music, he brings years of experience and passion to his writing. He covers the latest releases and trends, always on the lookout for the next big thing in music.