Nirvana's last album, 'In Utero' celebrates 30 years of release this Thursday (21) and will be re-released in a special edition
In an atmosphere of celebration of 30 years of In Uterothe last album of NirvanaThe NME interviewed Krist Novoselic to talk about the record's legacy. The former bassist of Nirvana also revealed some interesting facts about the remastering, which will feature 53 new live tracks.
The album will be released on October 27th in various formats including a limited edition of eight LP super deluxe box sets, five CDs super deluxe box sets, a 10-inch LP + edition, two deluxe edition CDs and a super deluxe digital edition. .
I'm excited about the live shows because they used AI. We took the digital audio tapes from the soundboard in Rome, Seattle and Los Angeles, so the AI ​​was able to separate all the instruments and we made a really good mix of it."
Asked if the Nirvana would consider using AI to create a new material, just like Beatles intend to do soon with their "latest single", he replied: "It's a good idea… I'll talk about it with Dave [Grohl] It is Pat [Smear]".
However, Krist points out that he does not know if there are demos or recordings of the Nirvana that could yield new songs from the band, since many fans have already used Artificial Intelligence to simulate new projects with the vocals of Kurt Cobain.
This is an argument that will have to be resolved when it comes to copyright and misinformation… Kurt is not here in the present, so everything has to be done correctly."
To commemorate the 30th anniversary of In Utero, several multi-format reissues will arrive on October 27, 2023. Configurations include a limited-edition 8LP Super Deluxe box set, 5CD Super Deluxe box set, 1 LP + 10" edition, 2CD Deluxe edition , and a Digital Super Deluxe edition.… pic.twitter.com/P5frESbvRZ

— Nirvana (@Nirvana) September 5, 2023
Source: Rollingstone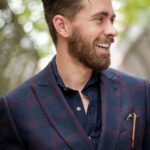 Earl Johnson is a music writer at Gossipify, known for his in-depth analysis and unique perspective on the industry. A graduate of USC with a degree in Music, he brings years of experience and passion to his writing. He covers the latest releases and trends, always on the lookout for the next big thing in music.