Model Tiago Ramos surprised the audience of "A Fazenda 14" by launching himself as a singer. Turned TR, recorded a song in collaboration with DJ Hunter and posted the clip this Wednesday (7/12) on YouTube.
The music video, titled "Camisa 7", features former factory worker Rosiane Pinheiro.
Written by Tiago himself with Licohn Lira and Jairo Marques, the song assumes the predilection of the artist. "What I really like are crowns," he sings, surrounded by women. But while the lyrics don't seem to make much sense, fans say the boy will have a great career path in music, particularly in the trap genre.
"Here! Take advantage of the opportunities, run after yours and responsibly turn everything in your favor", said an Internet user.
With the release (and possible success) of the song, hopefully TR will land his dream home. At the moment, Neymar's ex-stepfather lives in the residence of Pétala Barreiros' mother.
"You guys don't know my mother… Gabriel [Roza, namorado de Bia] he is already here at home, Tiago is at my mother's house, she adopts everyone", filmed the abandonment of "A Fazenda 14".
Discover the music of Tiago Ramos, TR.
https://www.youtube.com/watch?v=iX6zLTk9Yxg%20
🇧🇷The best content in your email for free. Choose your favorite Terra newsletter. Click here!
Source: Terra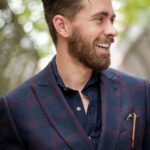 Earl Johnson is a music writer at Gossipify, known for his in-depth analysis and unique perspective on the industry. A graduate of USC with a degree in Music, he brings years of experience and passion to his writing. He covers the latest releases and trends, always on the lookout for the next big thing in music.