On the date when the singer would have turned 55, Elvis Presley's ex-wife expressed her sadness at the loss, which occurred last January
Many were taken by surprise by the news of the death of Lisa Marie Presley. the only daughter of Elvis Presley passed away last January 12, at the age of 54, after suffering a cardiac arrest. She would have completed her 55th birthday on Wednesday (1st).
the mother of Lisa, Priscilla Presley, recalled the date in a publication on social networks. Married to the Rock king between 1967 and 1973, the 77-year-old actress and businesswoman declared that she was having to learn to live without her only daughter – she also had Navarone Garibaldia 35-year-old musician who is the result of his second marriage to Marco Garibaldi.
"Today (Wednesday 1st) would have been Lisa's 55th birthday. My desire is to protect my three grandchildren and keep our family together. From the first moment I held Lisa in my arms, I protected, loved, and guided her, as I did my son. Our hearts are broken and I am having to learn to live without my only daughter. We really love you all and feel your prayers. Thank you so much for caring so deeply for our family."
The cause of death of Lisa Marie Presley has not yet been revealed. It is only known that she suffered a cardiac arrest and was taken to the hospital immediately, but was brain dead after being placed in an induced coma.
The Death of Lisa Marie Presley
Lisa Marie Presley died on the night of this Thursday, 12, at the age of 54. Lisa was the only child of Elvis Presley and suffered a cardiac arrest during the afternoon. The singer-songwriter was rushed to the hospital, however.
Also singer, Lisa Marie was married to stars like Michael Jackson It is Nicolas Cage. She had four children, including the actress. Riley Keough (Mad Max: Fury Road) and the deceased Benjamin Keough, both fruits of their first marriage, with Danny Keough.
His death occurred days after his presence at the 80th Golden Globes with Priscilla Presley. Mother and daughter witnessed the victory of Austin Butler in the Best Actor in a Motion Picture Drama category for his portrayal of the King of Rock and Roll in the biopic Elvis.

Funeral and Tribute to Axl Rose
the funeral of Lisa Marie Presley took place on the 22nd of January in graceland, the famous house of Elvis Presley later transformed into a museum of the singer. She was buried on the spot where her father and son Benjamin are buried.
During the wake, a series of tributes were made. One of them went viral on social networks when it brought Axl Rose interpreting a version of "November Rain", a classic by Guns N 'Roses, with only voice and piano. The singer said this was Lisa Marie's own wish for her funeral.
In a statement to the magazine Peoplehe declared:
"I will miss my friend Lisa. Her death, like her son's death, or her father's, doesn't seem real. Lisa loved her family, all her children. My feelings are with them. Her son's death it was shocking, tragic and devastating. It was something that, at some point, you didn't want to talk about, but it was an effort to show that you cared about her and that you were thinking about them. She appreciated that. I wanted her to be happy, if only feel good about things, at least as possible for someone in a situation like hers. Seeing the closeness of their relationship, that reality didn't ring true, at least not without the passage of time. No one knows what's after life, but I like to think they're together. She and Ben, with her dad, his grandfather. I think, somehow, they're happy together."
Source: Rollingstone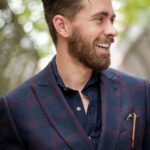 Earl Johnson is a music writer at Gossipify, known for his in-depth analysis and unique perspective on the industry. A graduate of USC with a degree in Music, he brings years of experience and passion to his writing. He covers the latest releases and trends, always on the lookout for the next big thing in music.