Chloe Okuno directs 'It Follows' star Maika Monroe in the enigmatic 'The Stranger,' pure unadulterated suspense with magnetic photography.
The plot tells us the perfect setting for a manual thriller from the start: a young woman arrives in an unknown city following her partner and, while he spends long hours working, she despairs at the constant gaze of a stranger who seems to follow her every move.
Simple and effective -at least up to a certain point-, the story signed by the director Chloe Okuno together with her co-writer, Zack Ford, does not distort in any way the expected structure and the hackneyed arc that travels from the intrigue to the resolution, going through disbelief, fear and despair. The brilliant direction of photography by Benjamin Kirk Nielsen, as bluish as if it were an American filming in Europe, keeps us absorbed before a Maika Monroe who, like the story, always seems about to offer us something more until, after several iterations arguments, we have to return to the streets. Although we wanted more after her passing through 'V / H / S / 94', reading about the denial of women to their own reality and the formal successes keep us attentive to the promising Okuno.

For lovers of suspense that stands on its own, pure and unadulterated
​
DATA SHEET
Address: Chloe Okuno Distribution: Maika Monroe, Burn Gorman, Karl Glusman, Daniel Nuta Country: USA Year: 2022 Release date: 17–3-2023 Gender: thriller Script: Zack Ford, Chloe Okuno Duration: 95 min.
Synopsis: A young woman moves into a new apartment with her fiancé and is tormented by the feeling of being stalked by a man who is watching her from a building across the street.
Source: Fotogramas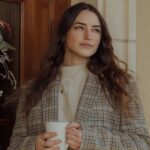 Emily Jhon is a product and service reviewer at Gossipify, known for her honest evaluations and thorough analysis. With a background in marketing and consumer research, she offers valuable insights to readers. She has been writing for Gossipify for several years and has a degree in Marketing and Consumer Research from the University of Oxford.