Warning – The article below contains "Seven" spoilers as it foreshadows the end of David Fincher's thriller. Please continue if you haven't seen it yet.
Released in early 1996, Seven is the undisputed pinnacle of serial killer movies. Often copied and probably never equaled. A masterpiece of a thriller with a Machiavellian script and crazy tension that hasn't gotten old after more than a quarter of a century.
If you're a fan of David Fincher's classic to the point where you're enjoying every second of it, then you've probably seen the subliminal image the filmmaker dropped at the end of the film. A barely perceptible plan that has real meaning in the course of the story, in this case its conclusion.
So here we are at the end of Seven, in a place cut off from the world where John Dom (Kevin Spacey) led David Mills (Brad Pitt) and William Somerset (Morgan Freeman) to show where his last two victims were. plan.
At the end of a grueling crescendo where a deliveryman delivers a package to Somerset, John Doe confirms that said package contains the head of Mills' companion Tracy (Gwyneth Paltrow), whom he killed that morning. At the height of the horror, Doe informs Mills that Tracy is pregnant.
Final scene with subliminal image at 3 minutes and 57 seconds:
Between anger and despair, and until Somerset pleads with him not to kill John Doe to prevent him from completing his macabre work "victoriously," Mills is completely lost. That's when exactly 1 hour, 55 minutes and 15 seconds after the shooting of the film, the famous subliminal image occurs, which may not have been seen by all viewers.
Very stealthily, Tracy's face appears. An angelic vision of his dead companion precipitates Mills' choice to kill John Doe with multiple bullets. Did you notice this shot that gives even more power to the David Fincher film?
Did you notice the little hidden details of the Seven?
Source: Allocine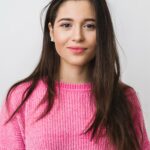 Rose James is a Gossipify movie and series reviewer known for her in-depth analysis and unique perspective on the latest releases. With a background in film studies, she provides engaging and informative reviews, and keeps readers up to date with industry trends and emerging talents.