Greta Fernández and Roger Casamajor star in the behind-the-camera debut of Santi Trullenque, an icy rural drama defined by a Pyrenean landscape as beautiful as it is inhospitable.
Three close-up looks at the camera by Greta Fernández, spread over each of the three acts of this powerful rural drama with Western airs, set the tone: the first, in a discussion with her husband (Roger Casamajor, similarly focused For the camera); the second, in an unbearably violent encounter with a Nazi; the third, in his final scene. Three moments that burn, like the cold that cracks the skin and penetrates the bones of the hopeless, almost resigned, protagonists of Santi Trullenque's rough debut feature.
Set in 1943 in a town in Andorra, a no-man's-land whose snow-capped mountains become a place of transit, often of death, for Jews fleeing the horror of the Third Reich. the fred that creamnarrates the dark adventures of a couple (Frández and Casamajor are amazing) who, immersed in family conflicts that span generations, take in outlaws in their attic who are persecuted by an obsessive German officer who wears fur and kills as a hobby. A Nazi sadist who, much less sophisticated than Christoph Waltz, stars in a moment that could be said to be inspired by the sensational prologue of Damn bastards.
Although it gets lost at times by focusing on its elements of a soap opera, infidelity and hatred between brothers, the film does find the right path when it opts for the almost costumbrist portrait of that small community that manages between silences, telltale glances, misery and songs passed down from father to son. And, above all, when he abandons himself to viscerality in sequences marked by characters whose morality hangs by the thread of survival, and defined by a landscape as inhospitable as it is beautiful, becoming one more character in this tragedy that begins with a phrase from John Steinbeck who serves as a warning of what is to come: "All goodness and heroism arise again, to be destroyed and rise again. Evil will never triumph, but neither will it die.
To reflect on the nature of Evil and on the hatred that crosses generations.
​
DATA SHEET
Direction: Santi Trullenque. Distribution: Greta Fernández, Roger Casamajor, Adrià Collado, Daniel Horvath, Pedro Casablanc. Country: Spain. Year: 2022. Release date: 20-1-2023. Genre: Drama. Duration: 116 min.
Synopsis: It is winter of 1943 in the Pyrenees. Sara and Antoni live in a small town in Andorra. Every day they receive news of the Second World War. One day, his friend Sendo comes with some Jews to hide them. Life gets complicated for them when the Germans come to the city looking for them.
Source: Fotogramas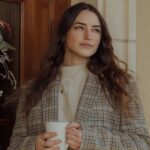 Emily Jhon is a product and service reviewer at Gossipify, known for her honest evaluations and thorough analysis. With a background in marketing and consumer research, she offers valuable insights to readers. She has been writing for Gossipify for several years and has a degree in Marketing and Consumer Research from the University of Oxford.