Demonstrating once again his talent, vocal range and versatility, Sael presents "Lucifer", his new single and video; They are now available on all digital platforms.
Showcasing raw, unfiltered emotions through his artistic experiments, this new phase of Sael comes with sounds and visual spaces that work hand in hand to break down creative barriers.
With "Lucifer", indeed, further consolidates its place within the urban genre as one of the most promising emerging compounds.
Carefully crafting a story of heartbreak, Sael puts his heart on the line as a story of forbidden love unfolds. Sinking into a much softer, surreal melody, the tale reaches its climax as he sings, "And I remember // When I took you to heaven // You turned my bed into hell // You don't know how much I love you".
remember his feelings for the woman who hurt him -his Lucifer-, drags his audience into a whirlwind of emotions as his unmistakable voice brings his vision of the song to life.
Directed by Lucas Emiliani, the minimalist video shows raw, intimate emotion and takes a symbolic approach by showcasing the red hair of its female lead in this tale.
Source: Qmusica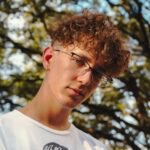 Benjamin Smith is a fashion journalist and author at Gossipify, known for his coverage of the latest fashion trends and industry insights. He writes about clothing, shoes, accessories, and runway shows, providing in-depth analysis and unique perspectives. He's respected for his ability to spot emerging designers and trends, and for providing practical fashion advice to readers.