Valdes Merges With Ca7riel In Latest Preview: "When Everything Goes Down"the second and final preview of the Cordovan duo's upcoming album.
After presenting "Volver a Casa", in March of this year, Valdes deepens his research related to Argentine song through this high-tension collaboration with Ca7riel.
Like its predecessor, the song shows the Valdés brothers in a rock state and sheds light on an unsung facet of the project, which exposes its more organic side on its impending fourth album.
"The production of the song took place in Buenos Aires. We were vibrating there, testing with some pre-produced beats that already had a more rock intent but with the dance imprint that identifies Valdes so much," they said. .
And they added, "Since Cato is so good at this dirty, electronic style and it's so easy for him to sing over a reef of rhythmic altos, he re-baited himself and threw down his bar. We sang the chorus at the same time. There was a lot of research, which finally hit like a pineapple. The first thing he sang was what was left on the demo. We went back to Cordoba, he finished recording it at his house and the final plan was a long distance round trip".
The collaboration was born organically via Instagram, in a game of questions and answers. Ca7riel's participation stands out for its personality and also because it is the only voice outside the duo that is present in all the work produced in Cordoba with Bernardo Ferrón.
Source: Qmusica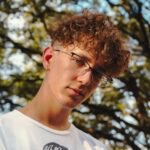 Benjamin Smith is a fashion journalist and author at Gossipify, known for his coverage of the latest fashion trends and industry insights. He writes about clothing, shoes, accessories, and runway shows, providing in-depth analysis and unique perspectives. He's respected for his ability to spot emerging designers and trends, and for providing practical fashion advice to readers.