Reik launches "A Mi Lado", a song joined by Argentine star Rusherking.
"After a few years doing many collaborations in the urban world, it's good to approach a more pop sound again", says Jesús Navarro speaking of this new single.
And he adds: "It's especially exciting to come back accompanied by young people who are doing new things, who have new ears and who, in the end, inevitably take us somewhere else. It was a great experience to develop the song and the video we recorded in Mexico City, in a super cool abandoned house.
At just 22 years old, Rusherking continues to grow and marking an era of hip hop and freestyle that is taking the world by storm.
The release of "A Mi Lado" also takes place in the middle of the "En Cambio Tour", which will bring Reik to Buenos Aires on April 29.where they will surely present what will be their next album.
Among Reik's latest singles are "Loquita" with Rauw Alejandro, which is already Gold in Mexico, "Los Tragos" (with Maria Becerra) certified Gold in Mexico and "5 Estrellas" with Sech, No. radio in Mexico. of the general table.
"A Mi Lado" is launched alongside a video directed by Charlie Nelson, who has previously worked with artists such as Myke Towers, Danna Paola, Maluma, Lele Pons, Anitta, Rauw Alejandro, Wisin and Maria Becerra, among others .
Source: Qmusica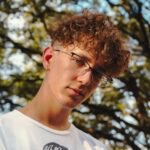 Benjamin Smith is a fashion journalist and author at Gossipify, known for his coverage of the latest fashion trends and industry insights. He writes about clothing, shoes, accessories, and runway shows, providing in-depth analysis and unique perspectives. He's respected for his ability to spot emerging designers and trends, and for providing practical fashion advice to readers.