______________________________
On the eve of the premiere of the ninth part of the New Year's comedy "Christmas Trees" took place in Moscow. The event was attended by both showrunners and leading actors, as well as star guests from the world of cinema, music and show business, for example, Philip Kirkorov with children (by the way, he also played a small but important role in the film), Alika Smekhova, Masha Tsigal, Elena Borshcheva, Olga Kabo, Irina Bezrukova, Alena Vodonaeva, Yulia Savicheva, Nikita Tarasov and many others.
In Russian cinemas, the film directed by Alexander Lupashko and Sergey Naumov "Yolki 9" will appear on December 1.
Source: Hellomagazine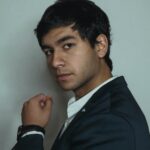 Jason Root is a writer at Gossipify, known for his in-depth coverage of famous people in entertainment, sports, and politics. He has a passion for uncovering the stories behind the headlines and bringing readers an inside look at the lives of the famous. He has been writing for Gossipify for several years and has a degree in Journalism from UC Berkeley. He is always on the lookout for the next big story and is passionate about providing interesting and exciting information on famous personalities.