______________________________
The principle of "an apple from an apple tree" for these two works flawlessly. Katya IOWA's mother, Nina Ivanchikova, began her modeling career at the age of 60, becoming part of the famous Oldushka agency last year. Looking at her, you understand why Katya herself does not hesitate to express herself through clothes and music, pays great attention to the harmony of soul and body and has the resource to jump on stage in the last stages of pregnancy. On the topics of motherhood, fashion and creative courage, we talked in an interview.
Katya, did your mother play a big role in the fact that you took up creativity?
Kate: Undoubtedly. It began with the fact that in kindergarten I studied for a whole year with my mother in the senior group. She was a cool teacher, she treated everyone equally, and of course I was very jealous, I didn't understand why she didn't single me out and I wasn't her favorite. But then she accepted the rules of the game. We were the strongest group, which took the leading places in all district competitions among kindergartens. Mom was instructed to conduct open lessons almost every other day. Parents of other children were unhappy, because we had to constantly prepare for something and be smart. It's an eternal holiday! That's when I decided that I will always be like this. (Laughs)
Nina Vasilievna: Katya has been creative from an early age. She could be naughty, and then explain the reason in such a way that the adults burst into laughter and never punished her. Her fantasy level was off the charts. Now, with her deeds, words, songs, she inspires us to look at the world in a new way. Sometimes we go shopping, and she persuades me to try on something. A skeptic wakes up inside – I will never wear this! But all the same, I trudge to the fitting room and, when I see the thing Katya has chosen, every time I am very surprised how it suits me.
Do you have any age-related clothing taboos?
Nina Vasilievna: At any age, you can dress in a way that is comfortable and practical, while looking bright, but not defiant. Petersburg is a great place in this regard. Here you will definitely be told that you are dressed beautifully. Thank you, city of Petra, you ignited courage in me, and it turned into a habit! I love lace collars, elegant gloves. Recently, I was given a dress with a thin line of ostrich feathers and high over the knee boots at low speed – yesterday I went to a meeting like that. Life is short, dress up more often!
Katya, did you and your mom ever have disagreements about style? In adolescence, for example.
Mom's reaction was always unpredictable. She ignored my patchwork denim skirt—I wore it over very ripped jeans—and the hand-painted pieces I wore to school. But when my sister cut off my triangle bangs, like Natalia Oreiro, my mother suddenly lost her temper. She had a tantrum, she screamed that I would be kicked out of school. By the way, the school did not respond, and the head teacher that day asked her to paint her trousers to hide the unsuccessful seam. After that, my mother seemed to accept my quirks, especially since they always had a creative connotation. From the age of 10, I was constantly looking for ways to learn how to make money with creativity, and my mother encouraged me in this. Then I guessed that she would not work after 50 and forget about how she plowed at four jobs. And so it happened.
Do you and your mother have joint creative work?
Kate: She starred in the video "Signs" – a blonde with a white dog. It so happened that we decided to leave one storyline – the line of lovers, and mom appears only at the end of the video, where there are a lot of people, and we arrange a small apartment house. We also participated in the show together as models, defiled along the catwalk at the Stieglitz Academy. And we also have a joint charity project with one foundation: we advertised things on ourselves, which were then sold, and for an impressive amount.
Nina Vasilievna: The day when Katya offered to take part in a charity shoot became a landmark for me. I tried very hard, I was worried that it would not work. But the result inspired, and the process hooked. After that, other shootings began to appear, I experienced a surge of energy and tremendous pleasure on each of them. Photographers and makeup artists took my number to work again. Then I realized that this is my direction, that I want to try myself as a model.
At the end of last year, you became part of a well-known modeling agency and starred in a bold project – you posed without makeup, in your underwear. Was this format difficult?
Nina Vasilievna: It is a great honor for me to be a model for the Oldushka agency, and shooting for the Predubezhdai brand was a kind of baptism of fire. In any business, the main thing is to think positively: on the beach, in the pool, a person is much more open for viewing, and in our project, only parts of the body are visible in the photo. The shooting turned out beautiful, and the process itself was very delicate – I would like to express my gratitude to the whole team.
Kate: I am delighted with what the Oldushka modeling agency does, what professionals are there. This is a whole philosophy that changes attitudes towards age. My mother trains her body and spirit diligently, I see how she fits into this philosophy. She pushes the age limits easily and provocatively, while not dismissing her well-deserved numbers in her passport. She starred in lingerie and did not receive a single negative comment, because her mother does not impose this picture, there is no vulgarity in this positioning, there is only acceptance of her body and age. From it emanates a smooth, soft, confident light.
Nina Vasilievna, you are in great shape, what is the secret?
Thank you for the kind words! Over the past year, my daughters, Katya and Natasha, have become the same size, so it's easier to buy things and share them. The main secret of my figure is my lifestyle and restless temperament. I walk a lot, swim, dance – flamenco, oriental dances, do Pilates and yoga. All my friends are in great shape. We support each other, help to stay afloat.
You have grandchildren – the children of your daughter Natasha. Remember the moment when Katya told you that you would become a grandmother again?
Katya and her husband Lenya came to me, handed me a bouquet of flowers and a beautiful postcard, where it was written: "Congratulations! You will soon become a grandmother! Indescribable feelings! These moments cannot be described, they must be experienced by everyone. You cry and laugh at the same time.
Katya, how can you characterize your "pregnancy wardrobe", have your clothing habits changed?
Finding something for pregnant women is difficult, I had two changes of clothes that I wore all the time, because these things did not interfere with movements. I immediately found cool ribbed trousers from Russian brand annuko, a pair of stretchy dresses from Daniil Antsiferov, and soft cashmere maternity underwear. This went on for several months. In December, I had a lot of New Year's bows, but this was for filming, and then I still ran to change into my warm, comfortable clothes.
You performed at impressive terms of pregnancy. How did you feel, how were you energized?
These performances are like training before childbirth. On stage, happiness produces endorphins that anesthetize the body. She was convinced of this many times, even before pregnancy – once at a concert she fell on the scenery and cut herself to blood, but she did not feel pain and continued to perform. This is my most important discovery, so I decided to stock up on endorphins. And during pregnancy, she followed her own course: swimming pool, yoga, mastering the technique of hypnobirth.
What things do you think Nina Vasilievna will be able to teach your child better than you?
Kate: Mom brilliantly develops young children through physical exercises. She taught me the first steps on the stage, taught me how to draw. I still remember the dances she performed with us in the senior group. Mom worked in a kindergarten for 40 years, and I saw how 12 uncontrollable, noisy kids suddenly calmed down and joined the process with interest. She has such a perky childish disposition! Her grandchildren are madly in love with her, they always tell her something very personal, and she keeps their secrets.
Nina Vasilievna: Children have to learn new things every day. My daughters teach me, my grandchildren teach me, life teaches me. I'm very glad about it. It is such happiness when there are loved ones and they are doing well. May we all be well!
Interview: Anna Fedyunina
Photo: Nikita CAR
Style: Tanya Velvet
Source: Hellomagazine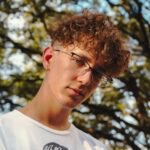 Benjamin Smith is a fashion journalist and author at Gossipify, known for his coverage of the latest fashion trends and industry insights. He writes about clothing, shoes, accessories, and runway shows, providing in-depth analysis and unique perspectives. He's respected for his ability to spot emerging designers and trends, and for providing practical fashion advice to readers.