Lover of flashy outfits Heidi Klum once again attracted attention in an unusual way. The supermodel attended the premiere of Chang Anhung's French romantic drama Ragout Dodin Buffan, which premiered at the 76th Cannes Film Festival yesterday, May 24. Juliette Binoche, star of French cinema, played the main role in the film.
On the Cannes red carpet, 49-year-old Heidi stepped out in a bright yellow Zahir Murad dress with floor-length sleeves resembling the wings of a fabulous bird. A few more spectacular details of the outfit — this is a super bold neckline that reveals both the chest and stomach at the same time, a spicy deep slit on the thigh, as well as epaulettes embroidered with beads and stones.
By the way, this is not the first time Heidi has appeared at a social event in rich yellow. — wearing this color, she attended the Billboard Women In Music awards in March of this year. She also showed photos in a yellow bikini on her social networks. Looks like warm sunshine — star favorites.
And recently, Heidi Klum showed what her wardrobe looks like. The supermodel recorded the video while going on a business trip, and called the easy creative mess "outrageous mess." In early May, Heidi, along with her daughter, 19-year-old aspiring model Leni, again starred in a candid photo shoot for a new advertising campaign for Intimissimi lingerie in spite of the haters who condemned the previous joint campaign.
Source: Hellomagazine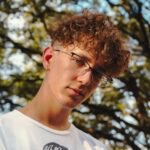 Benjamin Smith is a fashion journalist and author at Gossipify, known for his coverage of the latest fashion trends and industry insights. He writes about clothing, shoes, accessories, and runway shows, providing in-depth analysis and unique perspectives. He's respected for his ability to spot emerging designers and trends, and for providing practical fashion advice to readers.