53-year-old Jennifer Lopez delighted fans with new pictures in which she poses in a scarlet evening dress, drinking a cocktail of the same color. An off-the-shoulder Gaia dress with an asymmetrical feathered skirt accentuated the artist's slender legs. J. Lo completed her look with bright red sandals, gold chain earrings and a Van Cleef & Arpels bracelet with diamonds, as well as a bouffant hairstyle with strands framing the face casually.
By the way, the cocktail is called Bella Berry, which is ideally suited to the dress, and is produced by its alcohol brand Jennifer Delola. The star described it as a ready-to-drink "rich sparkling" drink based on "premium vodka, berries and hibiscus". Recall that, having launched the brand in April, J. Lo was subjected to sharp criticism, as she had previously stated that she had completely abandoned alcohol. Some fans also did not appreciate the new publication of the artist.
Can I ask you something, Jen? Didn't you once say that you no longer drink alcohol? But it doesn't matter because I love you, you are my idol, haha!
It seems hypocritical of you to eat right and promote the abstinence from alcohol, they write.
However, most fans were expected to be delighted with the new image of the singer.
Class and elegance from head to toe.
This shade and style of dress — piece of art.
Berry perfect.
In May, the alleged quarrel between Jennifer Lopez and her husband Ben Affleck was widely discussed in the press. However, the discord in the family predicted by the tabloids did not happen. Just a couple of weeks later, the lovers were spotted kissing while shopping together in Beverly Hills.
Source: Hellomagazine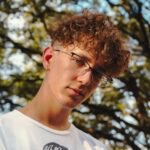 Benjamin Smith is a fashion journalist and author at Gossipify, known for his coverage of the latest fashion trends and industry insights. He writes about clothing, shoes, accessories, and runway shows, providing in-depth analysis and unique perspectives. He's respected for his ability to spot emerging designers and trends, and for providing practical fashion advice to readers.