_______________________________
Gucci showed a joint collection with Harry Styles called HA HA HA – however, this is not a mockery of the buyers, but an abbreviation from the first letters of Harry and Alessandro. Both use it in personal correspondence, and they have been friends for many years. The presentation of the line of 25 looks took place in one of the oldest Milanese vintage shops Cavalli & Nastri. Everything will go on sale in October.
The basis of the collection is colorful suits and vests, shirts and coats, made in the aesthetics of the bohemian 70s. Many even thought that some of the images from it would fit perfectly into the wardrobe of the main characters of the Peaky Blinders series. But definitely the sweetness of the day is a print of blue sheep and cherries, as well as pendants with angry bears.
According to Michele, when creating, he was inspired by tailoring and British fashion in the 1960s and 1970s. Indeed, the clothes are indistinguishable from vintage ones, only, in a modern manner, they look agender – suits and accessories will fit perfectly into both women's and men's wardrobes. The designer called the collection "Our Dream Wardrobe" – Michele and Styles have been preparing it for several years.
Source: Hellomagazine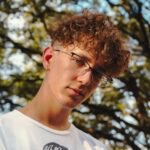 Benjamin Smith is a fashion journalist and author at Gossipify, known for his coverage of the latest fashion trends and industry insights. He writes about clothing, shoes, accessories, and runway shows, providing in-depth analysis and unique perspectives. He's respected for his ability to spot emerging designers and trends, and for providing practical fashion advice to readers.