A timeless dream
Do you dream of jewelry that you can wear for a lifetime and whose design never gets old? The Empreinte collection from the fashion house Louis Vuitton is timeless, distinctive, luxurious and you can use it to emphasize who you are.

Source: courtesy of LV
A new chapter
The Empreinte collection was created in 2004. In it, we find easily recognizable jewelry that is based on the iconic design codes of the Louis Vuitton fashion house. This year, Francesca Amfitheatrof, artistic director of Louis Vuitton's watch and jewelry section, opens a new chapter of the Empreinte collection. Original and distinctive pieces, full of modern style, are coming to the scene.

Source: courtesy of LV
Historic yet current
Jewelry for women and men in 18-carat yellow, white or rose gold reflects the design of the typical studs from Louis Vuitton suitcases. We also find the famous LV initials, designed by Georges Vuitton in 1896, and the carved Monogram flowers.
Harmony
Interlaced rings and bracelets represent an allegory of a loving relationship and resemble the leather straps that wrap around the legendary luggage of the popular fashion house. Iconic four-leaf flowers adorn the medallions, which turn into perfect modern talismans. They are also hung on bracelets and perform their delicate dance with every movement. The very versatile design features a long necklace that easily transforms into a layered bracelet or necklace with multiple layers. Shaped hoop earrings and diamond-encrusted rose gold ear clips have an impressive style. They can be worn alone or layered and combined in an original way. The Louis Vuitton Empreinte jewelry collection has a very distinctive style. With its clean lines and clear features, it is the perfect ode to travel.

Source: courtesy of LV

Source: Moda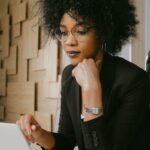 Camila Luna is a writer at Gossipify, where she covers the latest movies and television series. With a passion for all things entertainment, Camila brings her unique perspective to her writing and offers readers an inside look at the industry. Camila is a graduate from the University of California, Los Angeles (UCLA) with a degree in English and is also a avid movie watcher.