photo: courtesy of Jimmy Choo
The scene with the snow-covered environment reminiscent of the Alps became the perfect place to capture the skiing idyll. The JC monogram hooded winter jacket in black, gray and white is waterproof. More stylish pieces include a black jumpsuit with flared legs and a belt at the waist.
Jimmy Choo also thought of little things, such as knitted socks, fleece-lined mittens, but also ski bags or phone holders. All waterproof of course. Posing Barbara Palvin was photographed by Berlin-based photographer Dan Beleiu, who focused on all the details from the collection. Eliza Conlon helped style the model, and Hadeel Tal along with James Rowen took charge of the make-up and styling of Barbara Palvin's dark locks.
The comfortable yet stylish snow boots in the color combination are complemented by black sunglasses, a purple turtleneck, a knitted ski cap and elegant black Jimmy Choo skis. Sun-drenched mountains and bold colors on the individual pieces of the collection entice you to go skiing.
The ski-inspired collection is available online on the designer's website and in select retail stores.
Check out the entire collection here.

Source: Moda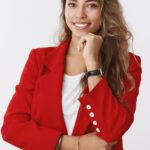 Mary William is a fashion writer at Gossipify, known for her in-depth analysis and commentary on the latest trends and industry news. She has a passion for fashion and offers readers a unique perspective with her writing. A graduate of Parsons School of Design, she has years of experience in the industry, and is always on the lookout for the next big thing.