"The main matchmaker of Russia", "the second Ranevskaya" – as soon as they do not call the host of the TV show "Let's get married!" Larisa Guzeeva.

Everyone knows that she does not go into her pocket for a word and has her own opinion on everything – both about marriage, about love, about a woman's place in the world and about how to behave with men.
One can argue with some of Guzeeva's theses. The actress, for example, argues that if a wife does not have time to wash the dishes or iron her husband's shirts, she has to sacrifice her career – now such a proposal seems ridiculous.
But many of Larisa's tips are worth heeding. For example, she advises to always remember that a partner is a "ready-made man", and not a semi-finished product that can be finalized "for oneself". This is a big rule, because we are often told that a woman can change any man, but that is not the case at all.
"I have always loved what I have"
Larisa Guzeeva managed to achieve what many only dream of. Children, a loving husband, her own money, a successful career, creativity – this woman has everything. But Guzeeva says the secret to happiness is not at all to reap all possible benefits.
ADVERTISEMENT – CONTINUED BELOW

"I've always loved what I have. When I had a one-room apartment, I loved it. When I was earning three hundred dollars a month, I considered myself the richest and happiest. My children are always the best, despite the ties and bad behavior. My husband is the youngest, handsome and promising, despite the fact that he weighs 110 kilograms. Since my youth, I always sincerely love what I have" , Guzeeva once said.
Try to look at life as an actress. We are told that we can't love small things – it will stop us from doing more. But what if things don't work out right? After all, if you don't respect your accomplishments, you won't become self-confident. When partners look for each other's faults, there can be no question of a happy union.
Love yourself and what surrounds you. It is this, and not "going out of your comfort zone", that will help you change for the better. Transformations take strength, but where will it come from in a person who is dissatisfied with everything they have?
Read also: How to behave with a man if you want to achieve your goal: wise words from Larisa Guzeeva
Larisa Guzeeva's best quotes about relationships
Reducing the demands of a partner has a beneficial effect on both. It's usually hard to remake an adult person, especially if they don't want to. From constant instructions and "precious instructions", only the emotional climate in a couple can change.
Men don't know how to read our desires. You just have to come and say. Either it will or it won't.
Everyone has problems "in the outside world". And sometimes, to solve them, you need a hint, advice and simply the support of a loved one. It's good. But it is categorically impossible to solve all problems through a man, constantly complaining and moaning. The other person also has their own difficulties and there is no need to burden them with additional problems.
A man should be loved. When we love, we close our eyes to the faults and we appreciate the virtues. And when love passes, you already see certain gaps that take on monstrous proportions and become unbearable.
It takes youth to make mistakes, and maturity to try to correct them.
Source: The Voice Mag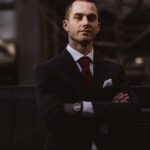 Ben Stock is a lifestyle journalist and author at Gossipify. He writes about topics such as health, wellness, travel, food and home decor. He provides practical advice and inspiration to improve well-being, keeps readers up to date with latest lifestyle news and trends, known for his engaging writing style, in-depth analysis and unique perspectives.