The former participant spoke to "La Casa de Los Famosos" about the sexual violence he suffered and the expulsions of MC Guimê and Cara de Sapato
This Sunday (19), Dania Mendez, participant of "La Casa de Los Famosos", returned to reality after being a few days on BBB23 and talked about MC Guimê and Cara de Sapato, who were expelled from the program, after being been accused of sexually harassing Dania.
"What conclusions do you draw from the crisis that led the House of Brazil to expel two participants?" asked the presenter. "For me it was something very strong, unexpected, actually. But always respecting the laws there, thanking how they take care of women and the whole process," Dania replied.
Dania had a goal to have fun at BBB23, this made her case even more difficult. "It was very complicated, because something that used to be fun became unexpected. My feelings were very happy and suddenly I was very sad. Ups and downs. I'm still processing everything, but learning from every situation," she continued.
The presenter said that the laws are the same everywhere and asked what Dania's heart felt about what happened. "It was a mixture of feelings. Sapato seemed incredible to me, a good person. In the end, I can only be responsible for my actions, but not for others. I learned from this that I must always be responsible for myself, follow the values ​​I have as a woman and the education I had with my mother, I will continue to take care of myself at parties and respect myself," concluded Dania.
Dania talking about the harassment suffered. WHAT AN INTERNATIONAL SHAME WE ARE GOING THROUGH. Sad thing. May he be well. #Lacasadelosfamosos #BBB23 pic.twitter.com/nQoC1qRlQn

— Sergio Santos (@ZAMENZA) March 20, 2023
expulsions
Last Thursday (16), Tadeu Schmidt announced live to the participants of BBB23 that MC Guimê and Cara de Sapato would be expelled from the program, after harassing Dania Mendez at the leader's party. "We don't like what we saw today. Sapato and Guimê are past the point. You have to be careful of the limits here and out of here. So, to go against the rules of the program, Guimê and Sapato are eliminated from BBB23," he said Schmidt.
The Civil Police of Rio de Janeiro is investigating MC Guimê and Cara de Sapato for the crime of sexual harassment against Dania Mendez.
Source: Terra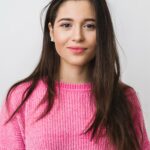 Rose James is a Gossipify movie and series reviewer known for her in-depth analysis and unique perspective on the latest releases. With a background in film studies, she provides engaging and informative reviews, and keeps readers up to date with industry trends and emerging talents.