Rede Globo managed to break the "BBB 23" game of contention with limited time limits, and when it let the conversation roll, at the best moment of this second edition (27/3), suspended the program to show commercials.
After Larissa Santos vented to Domitilla Barros about the pain she felt at being treated in a sexist and mean way at the "BBB 23" and received a studied apology, aimed at containing the damages, the two finally let themselves go in front of the eyes of the public in a small time frame allowed by the production.
The confrontation had a second round when it was Domitilla's turn to take over the boards and question Bruna saying that the fourth Desert was increasing what she was doing, influenced by Larissa, and spreading it throughout the house. And despite that, they didn't put her on the wall.
After Bruna spoke, host Tadeu Schmidt said he would leave to call the commercials, but left the cameras to capture the debate. Larissa took the initiative and revived the subject, explaining that it was not an exaggeration, that several people – not just Domitilla – objectified and assaulted her with sexist views on the programme, and that she she didn't even want to talk about it on Discord, because just remembering it made her want to cry.
"Do you realize you hurt me a lot? I didn't even want to say it because every time I say it I feel like crying. I'm not just blaming you and I'm not saying they don't have sexist jokes. Other people have here in the house and I think that it's a combination, you know?When I remember your jokes about me, I remember several jokes [de outros]that put me in this program in a place that… i'm not that and i think no woman deserves [ouvir isso]".
But at this point, the highlight of the game of contention, the commercials come into play.
Upon returning, the two were standing, facing each other, holding hands. Larissa held back her tears, while Domitilla spoke: "And whether or not my intention was to hurt you, I hurt you. This makes me very sad, very disappointed in myself. Thank you very much for your sincerity for everything you said now – we had that conversation, but it's not half of what we're talking about right now. I apologize wholeheartedly."
"You are forgiven," Larissa says, crying.
What Globo's audience lost was about a three-minute cut.
Larissa was still talking when the camera cut to: "I keep thinking… I've been having an affair here with someone [Fred Desimpedidos], imagine if I stayed with more people, what would they call me? I've been called a piranha, a bitch, a slut, just for free. And when my mother shows it to me, almost crying, she gives me pain that you have no idea. Then I talked to the other people, they asked me for forgiveness, they recognized the mistake. And I didn't expect from you that I think the thing that I most admire about you – that I most admire about you – is that you bring up this women's empowerment agenda. And then you talk nice here, and then you go in a room in a circle and you say the things you used to say about me, that hurt me a lot."
He continued: "When we went to talk there [fora], at first I let you speak. Use the empowerment agenda like you're empowering me when you ask funk singers to vote, play football, vote for me, so I'm still available out there. I talk about it and you say it like you're empowering me, then I think it's even more of a mistake, because the people who wronged me just got embarrassed and asked for forgiveness."
The PE teacher picks up on another controversial statement from Domitilla: "You say 'It must be hard for Larissa to swallow me, I speak seven languages, I'm a young lady'. On the contrary, I've always admired you for that We have conversations at Aquarius [na verdade, no Deserto]saying 'Caralh*, I can't even speak portuguese [Amanda balança a cabeça confirmando]… I know you're a lot smarter than me, you've got a lot more history than me, you've traveled the world, that's all. And then when I see several different lines, press that he has anxiety, if he presses the exit button… it's very serious, you know?".
With everyone silent and head down, Larissa continued, "I know you're very strong out there. And for me to come here and say that, it's a kick in the foot. But it's something that hurt me a lot and hurt my family." .
At this point, Larissa starts crying. "I couldn't… not talk, you see," she said, stammering through her tears, "even though I know you're strong and I'm shooting myself in the foot."
Domitila then gets up and asks to hug her. Larissa allows it, crying.
"I have to tell you I'm not judging you, that's okay, because I must have made a lot of mistakes here, I must have made a lot of mistakes," the teacher continues. "But it took me to a place that is very, very messed up*. I don't want other girls to leave and go out and watch videos, because it hurts me so much, and I'm not criticizing you, I'm not criticizing you…" , begins to laugh anxiously in the midst of crying.
"But you have to criticize me," admits Domitilla. "The Easy [Ricardo] he approached me and said: 'Domi, Lari won't vote for you, he wasn't the type to vote for you'. I didn't know either. I screwed up. You are right. You are right and I made that mistake. And since I always speak very beautifully, I am sad. See, I'm in my room a lot. I am very disappointed in myself, because I always speak beautifully, I am disappointed that I was wrong."
"And you understand that this is my disappointment in you, because I expected other people to make mistakes, but not you," says Larissa.
"I understand. That's why I look at you and say: you are right to be disappointed. It was my mistake. And it was in this space that I imagined that the consequence would be for me to go to the wall, because I made a mistake, Larissa. "
At this time, Globo's broadcasting has resumed.
Present in the same room, none of the other members said a word during this outburst.
See below the entire conversation in the videos without the commercial breaks cuts.
Larissa and Domitilla spoke during the break in the game of discord, Lari exposes how hurt and disappointed she is with her, because Domitila has always been a woman he admired, who knows she is very intelligent, recognizes her story ++ pic.twitter.com/LKUPDmxgBT

— Larissa Santos 🐙 (@larisantosbe) March 28, 2023
+ Of course Larissa and Domitilla can still be rivals in the game, but we are happy that they try to work each other out, we don't want to stir up a meaningless female rivalry!

Reproduction: Global game#TeamLariSantos #BBB23 #LariSantos pic.twitter.com/CfCTTemj7X

— Larissa Santos 🐙 (@larisantosbe) March 28, 2023
Source: Terra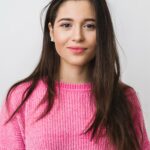 Rose James is a Gossipify movie and series reviewer known for her in-depth analysis and unique perspective on the latest releases. With a background in film studies, she provides engaging and informative reviews, and keeps readers up to date with industry trends and emerging talents.