Marcela, 16, helped Brazil to gold at the Student World Cup in Israel and hopes to continue the good results alongside Carol Sallaberry
In just a few months of operation, the investment in the base of the Sesc Botafogo Praia project begins to bear fruit. After climbing to the top step of the podium in the Campo Grande stage of the Under 19 Brazilian Circuit, Marcela, at just 16 years old, secured the gold medal at the World School Championship.
Played in Bat Yam, Israel, the championship saw Brazil beat Hungary, 2-1, in the final played last Sunday. Next to Marcela, there were compatriots Julhia and Raissa.
The youngest athlete of Sesc Botafogo Praia, Marcela comes from the Quintino neighborhood, in the North Zone of Rio de Janeiro. She, who migrated from the court to the beach to join the project, alongside her partner Carol Sallaberry, today has complete support: gym, physical trainer, physiotherapist, nutritionist, as well as the entire technical team and financial aid and plane tickets for tournaments.
– The feeling of winning this title is indescribable. The expectation and anxiety of responding to the trust of the call to defend my country was great. With each dispute, a huge desire to do my best, always trusting and believing. And the result has come – said Marcela.
The youngster will now resume training alongside Carol Sallaberry, focusing on the Brazilian circuit in her category, and promises to keep her commitment to looking for new goals.
– I thank Sesc Botafogo Praia for all the technical work and structure involved in my evolution. I feel honored to be part of this very important project, which supports beach volleyball. I will continue to do my best in every training session to keep looking for new goals – said the player.
Source: Terra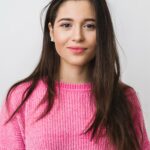 Rose James is a Gossipify movie and series reviewer known for her in-depth analysis and unique perspective on the latest releases. With a background in film studies, she provides engaging and informative reviews, and keeps readers up to date with industry trends and emerging talents.