Grammy winner Taylor Swift dropped her new song "You're Losing Me" on Friday (5/26). Due to the lyrics, fans and most music critics have concluded that the theme is the end of the relationship with British actor Joe Alwyn ("Harriet"). The song was included as a bonus track on the album "Midnights (Til Dawn Edition)", but only in copies distributed at the singer's concerts in New Jersey for the "Eras Tour".
In the lyrics, the singer exposes feelings typical of the suffering of those who are facing the end of a relationship. "My heart won't start without you anymore / Because you're losing me," the singer says in an excerpt. Elsewhere, she is shown to be in a quandary, not knowing whether or not to end up with anyone. "Should I throw away everything we built or keep it?" she asks.
Fans still believe the breakup may have occurred after Joe rejected Taylor Swift's marriage proposal. This is due to another part of the song. "I'm the best thing at this party (you're losing me) / And I wouldn't even get married / A pathological ass kisser / That she just wanted you to see her," she says. According to rumors, the breakup took place while she was performing in one of the shows on the tour. For her setlist in Arlington, Texas on March 31, she swapped "Invisible String," a love song that suggested she was meant to be with Joe, for "The 1," a song about whether a love lost was really the only one.
"And if my wishes came true, it would have been you," the blonde sings in "The 1". "It would have been funny if it could have been you," she reads in the next snippet. However, when the end was reported in the papers, the singer didn't seem to care and went out to dinner in New York's West Village.
The album "Midnights (Til Dawn Edition)" is a re-release of "Midnights" (2022) with remixes and new versions of the original songs. The album features guest appearances from up-and-coming rapper Ice Spice (on the track "Karma," which gets a clip this Saturday) and singer Lana Del Rey.
https://www.youtube.com/watch?v=mxSgCp6tteU
Source: Terra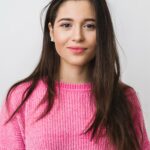 Rose James is a Gossipify movie and series reviewer known for her in-depth analysis and unique perspective on the latest releases. With a background in film studies, she provides engaging and informative reviews, and keeps readers up to date with industry trends and emerging talents.