Warning, the following paragraphs contain spoilers for the episode of Un Si Grand Soleil airing tomorrow night on France 2! If you don't want to understand anything, don't read the following!
Tuesday, September 19, 2023 in Un si grand soleil…
Julie organizes a surprise for Alex
Julie and Alex are doing yoga in their garden when a young woman receives a message from her boyfriend. He then takes advantage of the fact that his companion is about to take a shower to call Sylvain.
Julie then goes to the cabin and meets David to arrange a surprise birthday party for Alex.
Later in the day, Julie finds Jade at work and then shows her a project for Alex's birthday. As she does everything, Jade tries to figure out if her friend is only doing it out of guilt. Julie disputes this. Indeed, the latter is very much in love with Alex and only wants to please him without ulterior motives.
The noise grows louder around Virgil
At dawn, Virgil arrives at the camp and informs Tom that Yanis and his friends will leave him alone from now on. According to him, he will finally be able to resume the life of his little shirt. As he wants to know what he has done, Virgil makes him realize that the less he knows, the better. Only, the teenager is worried about him. So Virgil assures him that he has seen others. Tom doesn't know how to thank him, Virgil urges him to stop being stupid once and for all. After the promise, Tom gives her a warm hug. And suffice it to say, Virgil is particularly excited.
Later, Tom goes to the high school to cheer up Achilles, who was especially afraid of him. Although he doesn't tell her anything, the teenager explains that he was almost killed and that he is here today thanks to Virgil.
Meanwhile, Eva and Manu talk about Virgil's marriage. Indeed, the French teacher wants to give it to him. Only Manu has his mind elsewhere, which hasn't escaped Eve, who is trying to understand what's going on. After that, the policeman tells him that he no longer wants to attend the wedding. Realizing that they're at odds, Eve reminds him that she's his bestie and then strongly advises him to have a small talk with her.
After a while, Eve calls Virgil and tries to find out the reasons for this argument. However, the latter refuses to talk about it. Although both are stubborn, Eve pushes Virgil to solve the problem by Saturday.
Later, Virgil joins Alix and declares that she is the most beautiful date he has ever met in his life before telling her that he loves her. If she initially thinks that it is marriage that makes her so sentimental, the gallery owner quickly realizes that her future husband is hiding something from her. Virgil then tries to calm him down.
Not too far away, Tom informs his sister that he wants to move back in with their mother because he needs to get his life back on track. In understanding, Emma specifies that he will always be welcome in her home. After dinner with his sister, Tom returns home, where he hugs his mother warmly.
The lab results are back at the police station. The results are clear, the DNA found at the crime scene belongs to Virgil. So the commissioner asks Ian not to say anything to Manu.
Noemi confesses her feelings for Ludo
In the morning, Ludo confides in Alix that Jade kissed him. Information that makes the gallery owner smile and reminds his friend that he's allowed to change his mind. Only, he doesn't want to miss his chance with Noem. Since he's more worried about Jade than Noemi, Alix advises him to let her go.
Finally, Ludo calls Jade and apologizes for leaving so quickly the next day. He then suggests that they go out drinking tomorrow to make amends. An offer she is clearly happy to accept.
In the afternoon, Noemi takes advantage of Ludo's alone time to tell him that she feels more than friendship for him. A sentiment shared by the young man who invites her to dinner tonight. However, Noemi, who has other ideas in her head, instead suggests that they go to the farm for a few days to find out how they really feel about each other. which he receives.
Source: Allocine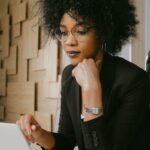 Camila Luna is a writer at Gossipify, where she covers the latest movies and television series. With a passion for all things entertainment, Camila brings her unique perspective to her writing and offers readers an inside look at the industry. Camila is a graduate from the University of California, Los Angeles (UCLA) with a degree in English and is also a avid movie watcher.