WARNING, THE FOLLOWING PARAGRAPHS CONTAIN SPOILERS FOR TOMORROW NIGHT'S EPISODE ON TF1 TOMORROW NIGHT! If you don't want to understand anything, don't read the following!
Tuesday 19 September Tomorrow belongs to us…
George was worried about his baby
At the police station, George and Sarah take Soizic's testimony. After telling them in detail the hell he's been through the last few days, Dr. Vernet warns Georges that Vanessa has been talking about him all the time and that he'll do anything to get her back.
While leaving the police station, George meets Soizic. Worried about the baby, she wants to know if Vanessa's bleeding is serious. Unfortunately, the gynecologist does not know because he could not examine her. After this, Georges finds it difficult to realize that Vanessa may lose the baby.
Back at the office, he attracts the wrath of the Auror. It must be said that Captain Jacob didn't really appreciate his colleague following Vanessa's instructions to the letter. An angry policeman, who believes that he is trying to prevent them from arresting the killer, accuses him of endangering his life. After admitting that he has done something wrong, George confides that this child is bothering him. When he threatens to pull her out of the investigation, she begs him not to.
Vanessa, on the other hand, still has contractions. After taking the medicine, the young woman gathers her things and leaves the hotel room.
Not far from there, Soizic thanks Charlie, Francois and Adam for welcoming him. In fact, Dr. Vernet couldn't imagine going home and sleeping alone at all. So François tells her that she can stay as long as she wants because he is here at home. Words that don't seem to sit well with Charlie, who decides to go and make lunch. While Soizic tries to figure out if he doesn't mind her being there too much, the French teacher assures that Charlie understands the situation well and knows how to make sense of things.
Meanwhile, Simon returns home and confronts Vanessa. He points his gun at her and asks her for shelter while he waits to get out of town with George and their baby.
At the end of the day, Georges brings Victoire and Mona along with Coutoire to tell them that Vanessa is pregnant by him. A heavy blow to Mona and Victoire, who find it hard to believe. As she worries about the baby's future, Victoire loses her temper and reminds her of what Vanessa did to them. Even if he never forgets it, Georges makes them realize that this kid has nothing to do with the story.
Of course, Bart hears their conversation. And suffice it to say, Spoon's boss isn't happy about the news. He even expels him from his institution.
At the edge of the canal, Georges sits on a bench, listening to the baby's heartbeat again…
Manon is released
It's been a week since Manon heard anything from Nordin. Convinced that he would not return, the young woman gathered her belongings. He then goes to the police station where he asks Roxanne to give Nordin a bag containing her personal belongings. When the latter asks her to wait as she has to arrive soon, the downy girl replies that everything is over between them. Although she thinks it's a shame, Roxanne now understands why her colleague has the weight of the world on her shoulders for days.
Later, Roxanne gives the bag to Nordin. Manon left the woman's underwear in the policeman's belongings, she thinks he did it on purpose to reconnect with him. Only, Nordin has no intention of doing so.
Not far from there, Manon confides in Dorian as she takes a photo of her bedclothes, accompanied by a message that says, "I tried it on, it's too small. So I'm almost sure 'it's yours.'" She sees that the message is full of Humorously, Manon realizes that the man she loves is not angry.Something sets her free.
Gabriel and Soraya are on a small cloud
Gabriel and Soraya spent the night in the hotel and wake up in each other's arms like never before. Happy, Soraya goes so far as to ignore her little sister's messages in order to spend more time with Gabrielle.
Arriving at the office, the latter explains to Rafael that he no longer wants to leave his post. If she's happy to hear it, on the other hand, the lawyer informs her that it would be nice if she didn't force him to resign every time he messes with Soraya.
Soraya, in turn, confides in Victoire about her terrible night with Gabrielle. Although happy, the young woman does not feel guilty about her little sister. The worst part is that if he had to do it again tomorrow, he would do it without hesitation, because he is crazy about Gabriel and he has never been so good with anyone.
Later, Noori takes the opportunity to meet Victoire at the hospital to ask her about Soraya. Indeed, he is worried because his sister is not responding to his messages. Uncomfortable, Victoire reassures him that the lawyer is simply overwhelmed.
In the process, Noori receives a message from Soraya. Then they meet on the beach. During the conversation, Nuri explains to her sister that she can't sleep anymore because she knows that Gabriel met someone. When Soraya urges her to stop hurting herself like this, Noori feels ugly and worthless. He feels that everything in his life has failed. Once he forbids her from saying it, Soraya reminds him how awesome she is.
Source: Allocine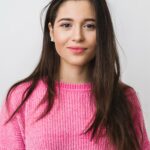 Rose James is a Gossipify movie and series reviewer known for her in-depth analysis and unique perspective on the latest releases. With a background in film studies, she provides engaging and informative reviews, and keeps readers up to date with industry trends and emerging talents.