Doja Cat has released the video for "Agora Hills" to accompany the release of her album "Scarlett", which arrived on streaming platforms this Friday (9/22).
Co-directed by the singer and Hannah Lux Davis (from Ariana Grande's "Thank U, Next" fame), the video uses surveillance camera angles and explores a "found footage" aesthetic, complete with horror scenes, especially in the initial part. , in which Doja Cat descends from the sky as a demon-possessed woman, while people lock themselves in their homes. There are also a shopping mall and traffic cameras, among other visual recreations, though the spooky atmosphere doesn't persist throughout the clip. Another highlight are the costumes with many different wigs.
"Agora Hills" is the fourth video from "Scarlet" and the title appears to be a reference to Agoura Hills, a Los Angeles suburb that is about 20 minutes from Doja Cat's hometown of Tarzana. However, the lyrics don't reference any particular location, just a man she wants to show off, kiss and have sex with.
The song is a slow hip-hop song, built around a sample of "All I Do Is Think of You", a 1989 R&B song by the band Troop.
Source: Terra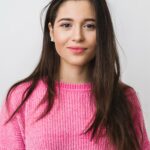 Rose James is a Gossipify movie and series reviewer known for her in-depth analysis and unique perspective on the latest releases. With a background in film studies, she provides engaging and informative reviews, and keeps readers up to date with industry trends and emerging talents.