"It was continuous chaos"
dakota johnsonthe actress who rose to fame after playing Anastasia 'Ana' Steele in the 'Fifty Shades of Grey' trilogy, has described her work in the franchise as a real chaos in an interview with Vanity Fair. And all because of the author of the original novels, EL James.
"[E.L. James] he had a lot of creative control, all day, every day, and he kept demanding that certain things happen. There were parts of the books that just wouldn't work on film, like the interior monologue, which was incredibly cheesy at times. It wouldn't work to say it out loud. It was always a battle. Always. When I auditioned for that movie, I read a 'Persona' monologue and said, 'Oh, this is going to be really special.'"
Johnson, who will soon premiere 'Persuasion' on Netflix, said that making the 'Fifty Shades' trilogy (a saga that we don't miss much) "became crazy," adding: "There were many disagreements. I've never been able to talk about this honestly, because you want to promote a movie in the right way, and I'm proud of what we finally did and everything turned out as it was supposed to, but it was complicated".
"We'd do the shots of the movie that James wanted to do, and then we'd do the shots of the movie that we wanted to do ourselves.Johnson continued. "The night before, he would rewrite scenes with the old dialogue so he could add a line here and there. It was chaos all the time."
Even with the battles that took place behind the scenes, Johnson harbors no regrets or ill will toward James or the franchise that made her a star.
"If I had known at the time that it was going to be this way, I don't think anyone would have done it," Johnson said. "It would have been like, 'Oh, this is psychotic.' But not, I do not regret… There are things I can't say yet because I don't want to damage anyone's career and I don't want to damage anyone's reputation, but so much jamie [Dornan] like me we received a really good deal. [James] She is a very nice woman and she was always nice to me and I am grateful that she wanted me to be in those movies."
"Look, it was great for our runsJohnson concluded. "So amazing… I was very lucky. But it was also weird. Very, very rare…"
Source: Fotogramas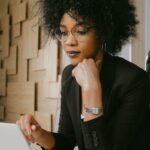 Camila Luna is a writer at Gossipify, where she covers the latest movies and television series. With a passion for all things entertainment, Camila brings her unique perspective to her writing and offers readers an inside look at the industry. Camila is a graduate from the University of California, Los Angeles (UCLA) with a degree in English and is also a avid movie watcher.