The films nominated for the 2023 Oscars (here's where you can see them all) have become the sensation of the moment because of the great reputation the Academy has.
However, Andrea Riseborough's nomination for best actress for her performance in 'To Leslie' has sparked controversy. And it is that some believe that the production of the film cheated in order to get the nomination of the actress.
The controversy surrounding Andrea Riseborough's nomination for the 2023 Best Actress Oscars
Among such popular films as 'Blonde', 'Tár' or 'Everything Everywhere All At Once' (with complex meanings), it was surprising that Andrea Riseborough was considered in the Best Actress category at the 2023 Oscars for the independent film 'To Leslie." '.
He probably wouldn't have gotten more attention under other circumstances, but his nomination has sparked discussion for a number of reasons, as described by the Puck portal.
First of all, because Viola Davis and Danielle Deadwyler were out. These are two actors of African descent who were backed by major campaigns funded by Sony and MGM/Amazon.
Furthermore, the legitimacy of Riseborough's campaign was called into question as the people behind 'To Leslie' resorted to using personal contacts (influential figures) to promote the film.
They asked actors and important members of the art guild to watch the film and speak highly of the actress's performance, which could have sparked her nomination.
Some of the actors who publicly supported the film included Jennifer Anniston, Edward Norton (if you like their work you can watch "Memento" on ViX+, ViX's premium streaming service), Gwyneth Paltrow and Courtney Cox.
However, this technique could be considered a trap, as it would represent an advantage over other producers who do not have this kind of contact.
For fans of the seventh art, this over-promotion of an indie film, which was director Michael Morris's feature debut and grossed just $27,322 at the box office, was strange.
Academy Talks Andrea Riseborough's 2023 Oscar Nomination
After the dubious nomination of Andrea Riseborough was on everyone's lips and the debate arose about whether or not she would be retained, the Academy finally spoke about it.
Through a statement released on January 31, 2023, Academy CEO Bill Kramer explained the status of this issue.
He assured that following concerns raised about this dilemma, the Academy has launched an investigation. However, it concluded that the issues "did not rise to the level where the film's nomination should be cancelled":
"Based on the concerns raised last week, the Academy has initiated a review of To Leslie's campaign tactics and has determined that such activity will not continue until such time as the film's nomination must be rescinded. . However, we discovered social media campaign tactics the scale of which caused concern. These issues are being dealt with directly with the authorities."
Those "responsible" have not yet been named, nor have those "campaign tactics that caused concern" been clarified. It is also not known if there was a payment to promote the film or if it was just personal favors.
For this reason, some still question the legitimacy of Andrea Riseborough's candidacy, while others continue to show their support for her.
And you, do you think the Academy was right to keep Andrea Riseborough's Best Actress nomination at the 2023 Oscars? Tell us in the comments.
Source: univision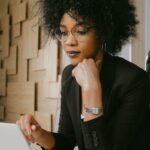 Camila Luna is a writer at Gossipify, where she covers the latest movies and television series. With a passion for all things entertainment, Camila brings her unique perspective to her writing and offers readers an inside look at the industry. Camila is a graduate from the University of California, Los Angeles (UCLA) with a degree in English and is also a avid movie watcher.