With the tragic death of Chadwick Boseman, the original story of "Black Panther: Wakanda Forever" was modified and even with the new script there were scenes that had to be removed for time reasons.
In the film, the story revolves around the mourning in Wakanda over the death of King T'Challa (Cadwick Boseman) and the conflict the African nation is embroiled in due to Namor (Tenoch Huerta) and his army.
Chadwick Boseman also appeared in the film Draft Day, which is available on ViX+ViX's premium streaming service.
But the story not only establishes that Shuri (Letitia Wright) will take up the mantle of Black Panther from now on, but also introduces new characters that will appear in the future of the MCU.
One of them is Riri Williams (Dominique Thorne), a brilliant young inventor who, in an abandoned warehouse, creates a machine to detect vibranium and match Iron Man technology.
While the film does show that Riri Williams has Tony-level intellect and may be his successor as Ironheart, a deleted scene made their connection even clearer.
'Black Panther 2' the deleted scene linked to Iron Man
As part of Phase 4 of the MCU and after the events of 'Avengers: Endgame', the original Avengers already have their successors and female versions, in the case of Tony Star (Robert Downey Jr.) it is Riri Williams with her identity Ironheart.
Even in real life, Robert Downey Jr. threw his support behind Dominique Thorne, the actress who plays Riri Williams/Ironheart, and told her that the legacy is going in the right direction.
Riri by the end of the film uses Wakandan technology to create a fully functional Ironheart suit, but a deleted scene showed her much earlier following in Tony's footsteps in the MCU.
Speaking on The Direct on January 25, 2023, actress Dominique Thorne revealed that Shuri and Riri had to escape Talokan in a different way after Namor forcibly transported them to his realm.
Dominique Thorne said that when her characters are trapped in the cave, they have a long conversation that allows them to get to know each other and develop a friendship.
"A lot of those moments in the cave were definitely powerful, relationship-building moments between Shuri and me. That was definitely the first time that… Obviously we know and associate these two characters with incredible brilliance, but that was, in that cave, the first time that they both realized that, "Oh, you're speaking my language. It's okay, I don't need to be upset. I don't need to reduce it. We can go straight to the problem."
But Suri and Riri didn't stand still during this conversation, the actress confessed that they were both forced to help Namor with a science project and had to build it in the cave.
However, using their intelligence and working together, Shuri and Riri use the parts they have and the Talokan power source to create a diversion and escape their captors.
"The two of them are forging there, working on this thing for them, which they will give her in exchange for their lives, but while doing so they divert materials and supplies to distract themselves and get out. from there. And while doing this, they talk about their life experiences."
The actress admitted that the scene is a reference to what Tony Stark did in the first MCU film in 2008, when terrorists kidnap him and force him to assemble a rocket in a cave, but secretly make his first suit.
Tony manages to escape the cave thanks to his mechanical suit and the sacrifice of the scientist Ho Yinsen, but the experience changes him as a person and in that moment begins his journey as a hero.
Although the scene was removed, Riri Williams will have her own series on Disney+, where she will make more costumes and her growth as a heroine will certainly have many parallels to what it took for Tony Stark to become an Avenger.
Source: univision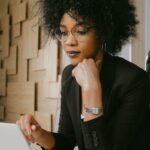 Camila Luna is a writer at Gossipify, where she covers the latest movies and television series. With a passion for all things entertainment, Camila brings her unique perspective to her writing and offers readers an inside look at the industry. Camila is a graduate from the University of California, Los Angeles (UCLA) with a degree in English and is also a avid movie watcher.