Subscribers to the platform's most expensive package can now watch over 700 titles with a cinematic audio experience
This past Wednesday (1st), Netflix announced that it is bringing spatial audio technology to more than 700 titles in its catalog. Access, however, is reserved for subscribers to the premium streaming package, who will be able to enjoy the sound experience of the cinema at no additional cost.
The spatial audio feature isn't exactly new to Netflix, having already been made available in July of last year for some productions.
At the time, the technology was accessible to subscribers to any service package, but could only be found in a few titles produced by the same company, such as Stranger Things, The Witcher AND Adam Project.
Now, however, the company has restricted the technology to premium plan customers only, and in return, has expanded the functionality to hundreds of productions, including titles such as Welcome to the Neighborhood, Wandinha and the Glass Onion: A knife-edge mystery in that selection.
Also, long-awaited productions that are about to debut on the platform, such as At your house or mine? AND Luther: Night fallsit will also come to the service with a different sound.
Spatial Audio delivers an immersive sound experience
Netflix's spatial audio is an improvement that the company has managed to bring to the sound of some of its films and series, and which can be experienced by the user on whatever device they are using.
In practice, this means that a person does not need any additional devices, other than a TV, computer or mobile phone, to enjoy a cinematic sound experience in their home.
In order for the customer to find a film or series with this technology, he only needs to type "special audio" in the Netflix search bar or look for the corresponding seal in the title description. When you click on the production, the enhanced audio is automatically activated.
In the case of Apple devices (Apple TV, iPhone and iPad), however, in addition to a premium subscription and high or automatic transmission quality, the user will have to watch the title on one of these devices:
The company's headphones must be of the following models:
Third generation AirPods
AirPod Pro
AirPod Max
Beats Fit Pro
The Premium plan has more devices for download
In addition to the sonic novelty, Netflix also announced that it is increasing the number of downloadable devices that its premium plan subscribers have.
Until then, this amount was limited to four devices, but it has now increased to six.
It is worth mentioning that, in addition to these differentials, the Netflix premium package also has high quality video, with 4K+HDR resolution, and costs BRL 55.90.
With information: Netflix AND Netflix Help Center
Netflix caps spatial audio on the premium plan, but boosts titles with the feature
Source: Terra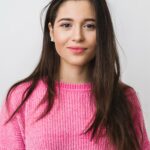 Rose James is a Gossipify movie and series reviewer known for her in-depth analysis and unique perspective on the latest releases. With a background in film studies, she provides engaging and informative reviews, and keeps readers up to date with industry trends and emerging talents.