______________________________
Sylvester Stallone and his family have joined the reality TV world. Paramount+ has announced a project called The Stallone Family. The show follows the star of the Rocky and Rambo franchises and his family, wife Jennifer Flavin and daughters Sophia, Sistine and Scarlet. The reality show will have 8 episodes. They will be released very soon, in the spring of 2023.
Having played some of the most iconic characters in cinematic history, three-time Oscar nominee Sylvester Stallone is ready to face the cameras in what he considers to be the greatest of his life – as a dad. Starring three daughters, a wife and himself, this new series invites you to the table of one of Hollywood's most famous families.
The Stallone Family will be filmed by MTV Entertainment Studios. The show was executive produced by Benjamin Herwitz, Jessica Salkind, Nadeem Amiri, Julie Pizzi, Farnaz Farjam, Jonathan Singer, Lauren Goldstein, Valana Khann, Chris Ray and Jason Williams.
In addition to the actor, his wife Jennifer Flavin will be in the spotlight. The woman was born and raised in Los Angeles and is now the co-owner of the wellness brand Serious Skin Care. Daughters Sophia and Sistine Stallone co-host the Unwaxed podcast. Unlike their older sister, Sistine and Scarlet are interested in acting and hope to enter the entertainment industry: Sistine as an actress, model, and director, and Scarlet, who stars with her father on King of Tulsa, as an actress.
However, there were serious problems in the Stallone family some time ago. They started at the same time that the actor covered up his wife's tattoo in August last year. Just a few days later, Flavin accused him of deliberately embezzling family property. Later, the couple reconciled, gave their couple a second chance and put on wedding rings again – later they walked around New York together as if nothing had happened, holding hands.
Source: Hellomagazine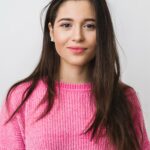 Rose James is a Gossipify movie and series reviewer known for her in-depth analysis and unique perspective on the latest releases. With a background in film studies, she provides engaging and informative reviews, and keeps readers up to date with industry trends and emerging talents.