______________________________
The opportunity to choose an actor for the role of himself is not presented to all celebrities, about whose life they shoot a biopic. However, Kate Moss took control of the situation and chose the contender — in the biopic about the life of a supermodel, she will be played by Willow star Ellie Bamber. The girl really has some very similar features to Moss.
The film was called "Moss and Freud". The plot tells about Kate's relationship with the British artist Lucian Freud, the grandson of the "father of psychoanalysis" Sigmund Freud. In the early 2000s, at the height of her career, a pregnant Kate agreed to pose for Lucian in his photography studio. The iconic portrait was sold for nearly $5 million back in 2005.
The action takes place around Freud's studio in Holland Park and London during the turbulent days of early 2000s Britain. The story reveals Freud's mysterious past and Moss's life as an internationally recognized supermodel, according to Variety's official description.
Note that in recent years, biopics about world-famous artists and fashion icons have become a real trend. At the same time, after the release of Andrew Dominik's film "Blonde" about Marilyn Monroe, which was literally crushed by both film critics and the public, Hollywood actress Whoopi Goldberg announced that she would legally prohibit making biopics about herself.
Late last year, Kate Moss reimagined her iconic '90s look for a new Marc Jacobs ad campaign. In the photo, the supermodel posed with pink hair.
Source: Hellomagazine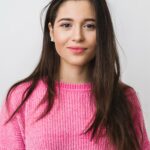 Rose James is a Gossipify movie and series reviewer known for her in-depth analysis and unique perspective on the latest releases. With a background in film studies, she provides engaging and informative reviews, and keeps readers up to date with industry trends and emerging talents.