'Girls' Night', February Premiere on ViX+
Aislinn Derbez (who has an identical TikTok double) stars in 'Noche de giras', a new exclusive series on ViX+.
It is a six-episode thriller in which five friends come together on a journey of self-discovery. In this, they will be able to take justice into their own hands.
María León, Leticia Dolera, Silvia Alonso and Paula Usero are also part of this crime drama that premieres February 24 on ViX+.
"Ashes of Glory", February premiere on ViX+
"Ashes of Glory" is a documentary series that links criminal cases with sports. Through six episodes you will be able to explore the triumphs and downfalls of six athletes from modern Mexico.
They are Salvador Cabañas, Esteban Loaiza, Julio César Chávez, Juana Barraza, José Alberto Loera Rodríguez and Ruben Omar Romano. Exclusive premiere on ViX+ on February 2, 2023.
"Bratty", February premiere on ViX +
Consuelo Duval made it seem like she didn't have the physique to make movies. Thankfully, the actress ignored these comments and is now going to surprise us all with 'Brat'.
This is a fun film in which Duval will play Francisca, a woman who raised her son as a spoiled and irresponsible child. A similar case is that of Gonzalo (played by Ricardo Fastlich), who has turned his daughter into a capricious and rude person.
Everything will change when they meet and they will have to rethink what their parenting methods were. Exclusive premiere on ViX+ on February 8, 2023.
'The black minutes', ViX +'s February premiere
The basic premise of "The Black Minutes" is this: how is it possible to catch a killer that everyone is protecting?
This film is based on the novel of the same name by Martín Solares and was the winner of the Ariel Award 2022. It is set in the late 1970s in a corrupt city on the Gulf of Mexico.
Its plot follows Vicente Rangel, a detective trying to catch a killer of girls. But to achieve this, he must face a wave of corruption that will put his life in danger. Available on ViX+ from January 25 in Mexico and the countries of Latin America and the Caribbean.
"The Collapse", February premiere on ViX+
If you like suspense series, you must watch "The Collapse" on ViX+. Each of its episodes has a different theme, but at the same time they are connected to each other.
His main argument is what would happen if different systems collapsed in Mexico City? Such as economic, technological, political or environmental.
It has the participation of several renowned actors, such as Ana Valeria Becerril, Irán Castillo, Flavio Medina, Osvaldo Benavides, Ximena Lamadrid and others. Premiering February 10 on ViX+.
"The Game of Keys", February premiere on ViX+
"The Game of Keys" is a new version of the Mexican series of the same name, in which four couples decide to explore their sexuality through swinger relationships. Premiere on ViX+ at United States on February 10.
"Caught in the Family", February premiere on ViX+
"Trapped in the Family" follows the story of Caro and Sofia, a couple who end up stuck in some cabins outside of town with their parents and their respective partners.
But the journey will bring to light secrets, envy, disappointment and above all it will unleash great disasters that will make them reflect on what they really want in life. Available on ViX+ from February 22.
"Eyes that do not see", February premiere on ViX +
Starring Fernanda Castillo, Araceli Ramírez and Flavio Medina, "Ojos que no ven" tells the story of a woman who is willing to do anything for her family.
Follow the story of Elena, a librarian who has spent years depressed due to the death of her son. However, he will meet a young man who in his eyes is identical to the little boy he lost. It reaches ViX+ in Mexico and Latin American and Caribbean countries February 4th.
Which ViX+ premiere are you most excited about? Tell us in the comments.
Source: univision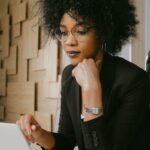 Camila Luna is a writer at Gossipify, where she covers the latest movies and television series. With a passion for all things entertainment, Camila brings her unique perspective to her writing and offers readers an inside look at the industry. Camila is a graduate from the University of California, Los Angeles (UCLA) with a degree in English and is also a avid movie watcher.