In the same way that the Netflix movie "Broad Peak" is based on the true story of a man who loves sports, "True Spirit" comes to the platform to tell the story of Jessica Watson's experience and her love for sailing.
The film depicts the moment when Jessica Watson (Teagan Croft) faces her fears and at the age of 16 embarks on a dangerous journey, all to realize her dream of becoming the youngest person to sail solo around the world.
As the teenager pursues her goal, many people criticize her and hope that she will not succeed, but with the support of Ben Bryant (Cliff Curtis), her mentor and sailing coach, and her parents, she will do whatever is possible to achieve it. .
Although her story of overcoming and perseverance may seem like something out of the mind of a Hollywood screenwriter, Jessica Watson is a real person who traveled the world alone for 210 days.
'True Spirit' is based on true events: who is Jessica Watson?
In the Netflix catalog there is a wide variety of films based on true stories and that are inspired, as is the case of "True Spirit" ("Free Spirit" in Spanish), which is an adaptation of the book of the same name published in 2010.
The story is told by Jessica Watson, who on October 18, 2009 embarked on a 7-month sea voyage, without companions or help.
Watson traveled approximately 23,000 nautical miles. He started in Sydney, Australia, traveled around the world and returned to Australian soil, something no 16-year-old had ever done before.
However, his journey was not always smooth (as seen in the film), as he experienced strong winds, his boat capsized seven times, and suffered the burden of loneliness after several months without contact with anyone.
When Watson returned from her trip on May 15, 2010, thousands of excited fans awaited her at Sydney Harbour. The government of her country organized a big event to welcome her.
In real life, the record for youngest person to sail solo was not officially awarded to Watson, as the board charged with awarding it discontinued the "youth" category and was unable to determine the distance traveled.
Netflix movie "True Spirit": what is Jessica Watson up to now?
After her journey and a hero's welcome from her country's prime minister and nearly 80,000 people, Watson was named the 2011 Young Australian of the Year.
She was also awarded the Medal of the Order of Australia in 2012 for her service to shipping and youth, being a role model for Australian teenagers.
After her adventure in the seas, Jessica became a youth ambassador for the United Nations Food Programme, where she worked with refugees from Lebanon and Syria.
He also completed an MBA from the Australian Institute of Management. He is currently 29 years old and works as a management consultant for Deloitte's human capital team.
In addition to the blog she wrote about her journey that became the book 'True Spirit', Jessica published another book called 'Indigo Blue' which is a novel about friendship and self-discovery.
Thanks to the feat she accomplished at the age of 16, Watson is also a public speaker on topics such as harnessing fear, resilience, perseverance and human improvement.
For the creation of the Netflix film, directed by Sarah Spillane, Jessica Watson was very close to the creative process and was invited to the red carpets of its premiere.
Source: univision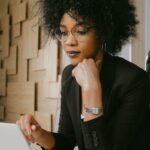 Camila Luna is a writer at Gossipify, where she covers the latest movies and television series. With a passion for all things entertainment, Camila brings her unique perspective to her writing and offers readers an inside look at the industry. Camila is a graduate from the University of California, Los Angeles (UCLA) with a degree in English and is also a avid movie watcher.