The singer used an image of the actress at the 2012 Kids' Choice Awards to promote "Slime You Out", the new song featuring SZA
Cabbage! The actress Halle Berry vented later Drake use a photo of yourself covered in green slime Kids Choice Awards 2012, by Nickelodeon, without your permission, to promote "Come out of the slime"new single in collaboration with the singer SZA.
Last Friday (15th), two days after Drake released the single, Berry sent a tip to the rapper by sharing a quote on Instagram that read: "Sometimes you have to be a mature guy… even if you're a woman!"
In the comments on the post, a user asked the actress what she thought about Drake's use of her photo. Halle replied: "Hence my post today. When people you admire disappoint you, you need to be a better person and move on!"
In response to another fan, Halle explained that she told the artist's team that she didn't want them to use her image, which was ignored.
He had his people call me and I said NO. I didn't like that image of slime on my face associated with his music. And she chose to do it anyway! You realize…that's disrespect. Is not beautiful!"
Halle Berry says Drake contacted her to ask if he could use the photo of her covered in slime for his new single, and he used it anyway despite her saying no:

"He asked me and I said NO… Why ask me if you're going to do what you want to do! That was bullshit to me. It's not cool, you… pic.twitter.com/A3p6hwQOVC

— PopBase (@PopBase) September 17, 2023
The image in question comes from Getty Images, so the actress has no rights to it. A third user commented on this on Berry's post. "Though I understand your point. That photo is owned by Getty Images. So I'm sure he got permission. And paid the fee. Why are you angry?"
The actress then responded: "Because he asked me and I said NO, that's why. Why ask me if you're going to do what you want to do!? To me it was a 'fuck you'. It's not cool. Understand?"
"It's a matter of principle and integrity. I'm so happy that so many of you understand that," the actress said in response to another comment.
Check out the post:
Check out this photo on Instagram
"Come out of the slime" is part of Drake's eighth studio album, "For all dogs", which will be released on September 22nd.
HFTV ON SOCIAL MEDIA 👇
YOUTUBE | INSTAGRAM | TWITTER
FACEBOOK | PODCAST | TIC TOC
Source: Terra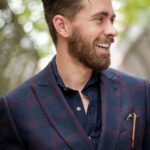 Earl Johnson is a music writer at Gossipify, known for his in-depth analysis and unique perspective on the industry. A graduate of USC with a degree in Music, he brings years of experience and passion to his writing. He covers the latest releases and trends, always on the lookout for the next big thing in music.