______________________________
The southern project occupied 2 floors of the Sun City residential complex. The guests of the club have access to a 25-meter pool with hydromassage and a thermal complex, as well as an outdoor terrace overlooking the sea, five fitness areas for group and personal training.
"Sochi inspired us to create an absolutely unique project – forward-looking, exclusive, stylish. Each member of the club will be able to use innovative equipment for training, train with the best specialists and visit more than 60 types of group fitness areas," says Irina Kutyina, founder and managing partner of Encore Fitness.
In the group programming studio more than 60 directions will be presented, starting with Kettlebell Workout with Reaxing soft weights and ending with Grand Battement for mastering the basics of ballet choreography. Also available traditional practices and modern Mind&Body workouts — Pilates, BodyBalance, Yoga, Deep Stretch.
Refresh yourself after your workout at Encore Cafe, whose menu is based on the concept of a healthy and balanced diet.
The sale of clubhouses at a special price is already open.
Source: Hellomagazine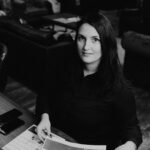 I am Amanda Gans, a motivated and ambitious professional in the news writing industry. With over five years of experience in this field, I have developed an eye for detail and an ability to craft stories that captivate readers. I currently write for Gossipify, where I specialize in beauty & celebrities news. My passion lies with exploring the world of beauty through writing, interviewing experts and developing articles that are both informative and entertaining.