______________________________
At Green Flow Rosa Khutor, absolutely everything is aimed at relaxing and restoring balance: interiors with a predominance of natural materials and colors, a restaurant with balanced cuisine, daily spiritual practices and master classes, yoga classes, meditations, physical activity, spa rituals and comprehensive wellness programs, individually selected by the specialists of the healing center based on a thorough check of the body. Author's healing techniques help to form new healthy habits that are easy to bring into everyday life in order to learn how to "reboot". The heart of the hotel is the thermal complex, which includes various saunas, baths, a hammam, contrasting fonts, a "shower of impressions", a grotto, and a relaxation zone. A special pride of Green Flow is a heated outdoor pool, which is used all year round and offers the best view of the mountains.
For lovers of a more active pastime, five minutes from the hotel there are lifts for skiing and snowboarding. Also at the resort is the Espas bath complex, which offers traditional Russian and mountain alpine bathing.
About the hotel Green Flow Rosa Khutor we are told by its founder and CEO Alexander Tertychny.
You have been involved in logistics for a long time and managed a large company. What influenced the decision to radically change the field of activity and open your own hotel?
It wasn't a drastic decision. The idea to create such a space came to me about 10 years ago, when my dad got sick and we started visiting European clinics. I was impressed that there is not a hospital atmosphere at all: positive staff, stylish design, human attitude. Then I began to think that I wanted to make a health project in Russia. A place where you can combine relaxation with a variety of gentle healing methods that bring physical and emotional recovery. Initially, I thought about creating health capsules or designing free-standing centers, but in 2015 I was shown a building at an altitude of 1170 m in the Rosa Khutor resort, for which they were looking for an investor. Seeing this location with a beautiful view of the Caucasus Range, I decided that this is where I want to open the first healing hotel in Russia.
What formed the basis of the idea and why did you choose Rosa Khutor as a building site?
Location is very important for healing hotels. This story is not only about beautiful landscapes, but about real places of power, where the energy of nature is felt. Therefore, heeling hotels are most often located in picturesque mountains, forests or near big water. That is why the Rosa Khutor resort was perfect.
Recovery begins immediately upon arrival at the resort due to the high content of positively charged ions in the mountain air, which help restart all body systems, stimulate brain activity and increase the overall tone of the body. In addition, sports activities are available to guests – hiking along the paths of health, skiing on the slopes. The nearest ski lift is five minutes from the hotel.
What can a Green Flow guest get? Rosa Khutor at the end of your stay?
The meaning of "healing" in literal translation from English means "healing", "recovery". Traveling here is health tourism, only in a pleasant, stylish atmosphere, without strict restrictions and, above all, with love for yourself.
Healing hotels are a great opportunity to escape from the bustle of the city and be alone with nature and your thoughts, restore energy and balance. This approach allows not only to relax, but also to completely reboot, restore physical and emotional state. The idea is to smoothly and unobtrusively change habits through relaxation of the spirit, mind and body. The balance is achieved through a competent combination of the energy of nature, comfortable conditions, complete relaxation, a variety of physical activity, nutrition and wellness techniques.
Your hotel has many advantages over others, but what do you personally highlight for yourself?
Our main advantage is the concept itself. After the check-up, spa treatments and wellness programs are prescribed, individually selected by the specialists of the healing center. In the thermal complex, you can try various saunas, baths, hammam, contrast fonts and other healing water treatments. My favorite place is the all-season infinity pool with a meditative view of the mountains and the forest.
Tell us about the "Mountain Air" program aimed at combating bronchopulmonary pathologies. Is it somehow related to Covid-19?
We constantly analyze the market and look for relevant audience requests. The Mountain Air program is just the answer to such a request, and yes, it is aimed at recovering from the coronavirus.
In addition to this program, we have three more topical health complexes. The Antistress program is aimed at adapting to stress, charging the body with natural energy and restoring its vitality, improving well-being. The Path to Ease program is our own non-specific detoxification technique that restarts the cleansing system and renews the body. The program "Renewal" is aimed at internal and external renewal, as well as restoring the harmony of the physical and emotional state.
To some extent, Green Flow is not just a hotel, but a refuge where a person can hide from stress and fully recover, both physically and mentally. Does this mean you are restarting their lives? To what extent do guests then adhere to certain healthy lifestyle rules?
It should be noted that Green Flow Rosa Khutor is becoming to some extent an educational project. I am glad that our guests have the opportunity to "try" healthy habits that they could not decide on in everyday life. For example, do morning yoga, master a contrast shower or spiritual practices. In addition, now most of our guests are young people who begin to take care of their health from an early age. It's not just nice, it really inspires me.
For such a short existence, Green Flow has reached considerable heights and was the first Russian hotel to join the international association Healing Hotels of the World. Can you tell us if you plan to scale the project?
For 5 years of work, we have standardized our approach and prepared for scaling. Now the Green Flow project is developing in two directions – hotel and resort and health-thermal complexes. At the same time, three objects are being actively built: the city thermal complex in St. Petersburg, a permacultural agro-resort in the Kaluga region and the largest healing resort in the real place of power – on Baikal.
Source: Hellomagazine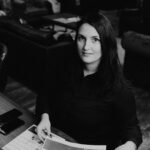 I am Amanda Gans, a motivated and ambitious professional in the news writing industry. With over five years of experience in this field, I have developed an eye for detail and an ability to craft stories that captivate readers. I currently write for Gossipify, where I specialize in beauty & celebrities news. My passion lies with exploring the world of beauty through writing, interviewing experts and developing articles that are both informative and entertaining.