In coverage of the World Cup, Fred returned to Brazil to be with Cris, his son with Bianca Andrade.
coldfrom "Desimpedidos", has denied speculation about his return to Brazil in the midst of world Cup🇧🇷 Conversing with his followers, the youtuber clarified that he would have had to stay in Qatar for 36 days, due to work commitments in the country, and, halfway through the trip, he missed the son he had with Bianca Andrade🇧🇷 from which he separated in April of this year🇧🇷
"I only came back from Qatar because I was missing my son. With Brazil qualifying early, the third match was pointless. Then I said: 'Dude, I think I can go back to Brazil to kiss him, stay for five days or a week , which is what I ended up getting,'" the presenter began on Instagram Stories.
Fred also denied that Bianca ditched 1-year-old Cris to go to the gkay lighthouse🇧🇷 party that brought together celebrities and influencers in a luxury hotel in Fortaleza (CE), and responded to criticism.
"They said I came back because of Farofa da Gkay. I honestly didn't even know I had Farofa da Gkay. They said 'Bianca went to Farofa and had to leave her son with someone, and Fred had to come back'. Folks, for God's sake," he said. Fred doesn't spare haters criticism Fred also said he received comments about "paying like a good father" and doing it "to damage Bianca's image." The journalist then provided details on the current relationship with the entrepreneur. "I think you have no idea how good my relationship with Bianca is. There was…
🇧🇷The best content in your email for free. Choose your favorite Terra newsletter. Click here!
Source: Terra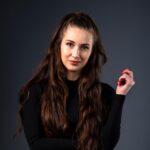 Amanda Larkin is a celebrity journalist at Gossipify, known for her in-depth interviews and unique perspectives on the entertainment industry. She covers celebrity news and gossip, providing readers with engaging and informative content, and understanding of the inner workings of the industry. She's respected for keeping readers up to date with the latest trends and providing a fresh perspective on the celebrity world.