The journalist died at Copa Star Hospital, in Rio de Janeiro, where she was hospitalized
Journalist Glória Maria died on the morning of this Thursday 2, after three years of battling cancer. In the early afternoon, the reporter's body was carried away by a hearse to begin preparations for the wake. The presenter was hospitalized in the Copa Star Hospital, in Copacabana, a neighborhood located in the South Zone of Rio de Janeiro.
Throughout the day, fans left flowers and other tributes in front of the hospital where the journalist died. There is still no official information about Glória's wake and burial, nor confirmation if the ceremonies will be open to the public. The state of Rio de Janeiro, where the presenter was born, has declared three days of official mourning.
The death of Gloria Maria
Glória Maria's death took the public by surprise this Thursday morning. In a press release, TV Globo reported that the presenter's death was due to lung cancer with brain metastases.
Glória discovered lung cancer in 2019. At the time, she treated the disease with immunotherapy and was successful. In the same year, the journalist was operated on for a brain tumor.
According to TV Globo, Glória started a treatment last year to fight new brain metastases, but it stopped having an effect in recent days. She was hospitalized in the first week of January.
Source: Terra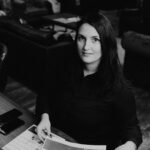 I am Amanda Gans, a motivated and ambitious professional in the news writing industry. With over five years of experience in this field, I have developed an eye for detail and an ability to craft stories that captivate readers. I currently write for Gossipify, where I specialize in beauty & celebrities news. My passion lies with exploring the world of beauty through writing, interviewing experts and developing articles that are both informative and entertaining.