The couple reportedly held a secret ceremony at a church in Las Vegas
It looks like there was a wedding: the American magazine People revealed that Kourtney Kardashian and Travis Barker got married this weekend. According to the portal, the couple decided to celebrate their union in a church in Las Vegas, right after the Grammy ceremony, which took place this Sunday, 3.
The wedding allegedly took place in the early hours of the morning, at 1:30 am, and was full of Elvis Presley look-alikes – typical detail of churches in Las Vegas. In terms of clothing, nothing too serious, since the two were still wearing the Red Carpet clothes.
However, as much as we are very happy for Kourney Kardashian, neither she nor Travis Barker has confirmed the marriage so far. Furthermore, according to Billboard, despite the two having visited a chapel together in the middle of Las Vegas, as reported by People, the marriage itself was not legalized.
The couple has been engaged since 2021
In October, Kourtney Kardashian shared, from a post on Instagram, that she was proposed by Travis Barker.
The order setting was beautiful. According to the photo posted, the two were on a beach near sunset and with a circle of roses and candles.
See this photo on Instagram
The sister Kim Kardashian also did not fail to share the news and posted a story of the couple kissing to the sound of "Mary You" by Bruno Mars and in this video you can see, in detail, the diamond on Kourtney's finger. In addition, several celebrities have already commented on the publication of the oldest of the Kardashians, wishing the couple well.
Kourtney Kardashian and Travis Barker made the relationship official in February this year, but started dating in December 2020. In May, according to a source for Entertainment Tonight, the socialite was already thinking about marrying the drummer of the blink 182.
Source: Atrevida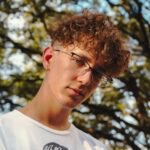 Benjamin Smith is a fashion journalist and author at Gossipify, known for his coverage of the latest fashion trends and industry insights. He writes about clothing, shoes, accessories, and runway shows, providing in-depth analysis and unique perspectives. He's respected for his ability to spot emerging designers and trends, and for providing practical fashion advice to readers.