______________________________
Unlike most star colleagues who hide the faces of their children, 36-year-old Ashley Greene regularly posts fresh photos of her daughter Kingsley Rainn. Today Ashley shared with subscribers another batch of touching pictures from the family celebration of Thanksgiving.
Happy," she wrote in the post.
Ashley and her husband Paul Khoury first became parents in late September. Ashley Greene's pregnancy became known back in March. Lately, in July, the actress posed naked, showing off her rounded belly, and in August, she hosted a grand baby shower party in honor of the unborn baby. Immediately after the birth of her daughter, she showed fans her perfect figure.
Ashley Greene and voice actor Paul Khoury have been together since 2013. Before the wedding ceremony, which took place on July 6, 2018 in the presence of 200 guests, the couple met for 5 years, and An offer of marriage Paul did just three years after the start of the novel.
Source: Hellomagazine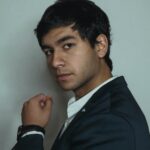 Jason Root is a writer at Gossipify, known for his in-depth coverage of famous people in entertainment, sports, and politics. He has a passion for uncovering the stories behind the headlines and bringing readers an inside look at the lives of the famous. He has been writing for Gossipify for several years and has a degree in Journalism from UC Berkeley.