One of the best places to find children's clothing in the middle-up segment — stores of the BUG LOVERS brand, which produces clothes for babies aged 2 to 6 years. It is noteworthy that the creators of the brand — also someone's moms and dads, who approached production with all responsibility and parental care. After all, children need not only fashion, but also comfort.
The BUG LOVERS assortment includes both casual and dressy wardrobe items, as well as outerwear and homewear and, of course, stylish and useful accessories. The brand pays special attention to materials — so, most things are made of cotton, which provides the baby with comfort.
The brand relies on free, non-constricting silhouettes. The collections show both the influence of retro and the trend towards muted shades. Brand designers are not afraid to experiment and often add elements such as embroidery and lace to basic items.
Source: Hellomagazine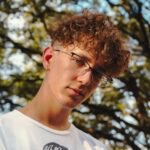 Benjamin Smith is a fashion journalist and author at Gossipify, known for his coverage of the latest fashion trends and industry insights. He writes about clothing, shoes, accessories, and runway shows, providing in-depth analysis and unique perspectives. He's respected for his ability to spot emerging designers and trends, and for providing practical fashion advice to readers.