The follower asks if it is normal for the testicles not to be next to each other
Doctor, my balls are not exactly next to each other and one is a little in front of the other. It's normal?
Yes, this is normal. There is no absolute symmetry between the testicles. In fact, one can be lower than the other, one can be a little further forward than the other, depending on the arrangement of the scrotum. So don't worry about this.
Only worry if it starts to hurt or if one of your testicles starts to grow significantly.
@jairobouer "Scrambled balls" 😱 #jairoresponde #doubt #advice #jairobouer #curiosity #health ♬ original sound – jairobouer

Source: Terra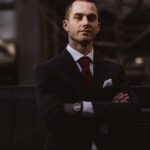 Ben Stock is a lifestyle journalist and author at Gossipify. He writes about topics such as health, wellness, travel, food and home decor. He provides practical advice and inspiration to improve well-being, keeps readers up to date with latest lifestyle news and trends, known for his engaging writing style, in-depth analysis and unique perspectives.